Off-duty cop kills robbery suspect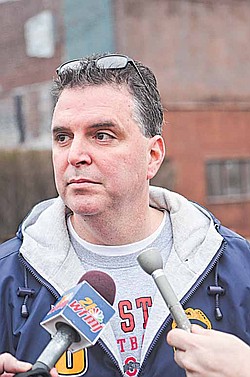 Photo
YOUNGSTOWN
A restaurant that gives food to those in need was the site of a deadly shooting Friday by an off-duty police officer.
Family members connected to Galaxy Seafood on Belmont Avenue said the would-be armed robber went into the restaurant around 6:30 p.m.
Capt. Rod Foley of the Youngstown Police Department told reporters that the officer who killed the intruder was working as a security guard at the restaurant.
Foley did not identify the officer or the shooting victim.
The investigation into the shooting is just beginning, he said.
Clothes could be seen on the floor just inside the shop, an indication that paramedics had worked to help the victim.
Clemente Franklin, 21, said his father owns the shop, which he said is run mostly by women.
"We see good people," Franklin said, noting that the restaurant is growing.
"When people didn't have money, the restaurant would give them food," Franklin said.
He added, "We were building up the business."
The eatery has a banner saying it is under new management. It took part in a "Stop the Violence" event on Martin Luther King Day earlier this year.
Franklin said that the women working in the building "were shook up. Real shook up."
According to one of the family members, the off-duty officer was in the back room when the alleged robber came in and pointed a gun at a worker at the cash register near the door.
Ormar Robinson of Youngstown said he had gone to the restaurant to visit with his mother.
"I didn't know the trespasser was shot and dead," he said.
Several people said that the alleged robber lived nearby and was known to the staff at Galaxy Seafood.
The restaurant is across the street from Avalon Gardens, a longtime restaurant at 1719 Belmont Ave.
Kathy Fanfer has worked at Avalon Gardens for 30 years. She said she had not heard or seen anything connected to the shooting.
As she talked, two women in medical garb went into Avalon Gardens.
When it comes to crime in the area, Fanfer said, "It's been quiet. It really has."
The last fatal shooting involving city police was on Jan. 3, 2010. Pharoah Tutt, 37, of Mercer Street was shot and killed by police in a gunbattle at Eastway Apartments on the city's East Side on that Sunday afternoon. Three police officers opened fire on Tutt after he shot at them.