Butler senior Silvestri, a Boardman native, dominates YSU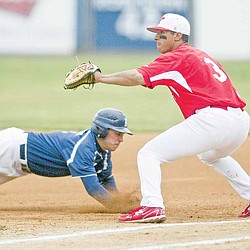 Photo
Butler's Grant Fillipitch dives back to the bag as Youngstown State first baseman Jeremy Banks awaits the throw during a pick-off attempt in the first inning of Friday's game at Eastwood Field in Niles. The Bulldogs, lead by Boardman native Dom Silvestri on the mound, dominated the Penguins, 15-1.
By Pete Mollica
NILES
Dom Silvestri doesn't get a lot of opportunities to pitch before his family and friends and in his hometown.
So when he does he likes to make the best of the opportunity.
Silvestri, a Boardman native and a senior pitcher at Butler University, pitched eight scoreless innings Friday night at Eastwood Field and led the Bulldogs to a 15-1 Horizon League rout over Youngstown State.
The 2005 Boardman High graduate scattered seven hits in his outing, which carried into the ninth inning when he allowed the Penguins their only run before being relieved by Brian Padove with no outs in the ninth.
"It's always great to pitch before your family and friends and I always enjoy pitching in this field," said Silvestri, who improved to 2-2 on the year.
Silvestri said that he was introduced to the Butler coaches when he attended a baseball camp in Florida his senior season at Boardman. "It has really worked out pretty well for me.
"It was pretty cold tonight and it was tough when we had those long innings, just sitting in the dugout trying to keep warm," he added. "It was great to have the support that I had tonight. I had good offense and good defense behind me.
"I thought I could go all the way, but those long innings did me in," he said. "I've never had a complete game here and I thought this might be the one."
Youngstown State (6-20, 1-3 Horizon), wasn't able to get to Silvestri until the ninth when it didn't matter. The 6-foot-5 right-hander threw 136 pitches on the night, 84 of them for strikes.
"He was the difference," said YSU coach Rich Pasquale. "We knew what we had to do against him and we just never did it. And his teammates gave him all the support he needed."
The Bulldogs pounded out 18 hits against four YSU pitchers. Starter Blake Aquadro (0-4) took the loss while pitching into the fifth inning, allowing nine hits and six runs.
"Our starting pitching really has hurt us," Pasquale said. "We're down four pitchers with injuries, so we've made some switches with our starters and bullpen, but it didn't work. The thing is we still got 18 innngs to go [today]."
"I'm really getting tired of seeing 16 or 17 hits against us, especially on the weekends," he added. "We need some guys to step up and we need it right now."
The Bulldogs dominated the YSU staff as they threatened in seven of the nine innings and were retired in order only once.
They scored twice in the third, added four more in the fifth and scored three times in the sixth, seventh and ninth innings.
Every starter but two hit safely, with senior infielder Luke Dunkan leading the way with four hits, including a double. Junior outfielder Mike Hoscheit drove in seven runs with three doubles for the Bulldogs (12-13, 4-3).
The Penguins managed just seven hits, two by sophomore Padraic Williams, senior Joe Iacobucci and freshman Phil Lipari.
YSU's only run came in the bottom of the ninth inning when Lipari led off with a double. After Jonathan Crist walked, Williams doubled to right field, scoring Lipari.
The Penguins and Bulldogs will play a doubleheader today with the first game slated to begin at noon at Eastwood Field.