Pavlik looks as good as ever in prep for May 7

Photo
Kelly Pavlik spars with Romaro Johnson during a conditioning session Thursday at the Southside Boxing Club. Pavlik is training for his upcoming bout with Alfonso Lopez on May 7 in Las Vegas. It will be the first time Pavlik will be back in the ring since losing his middleweight title to Sergio Martinez almost a year ago.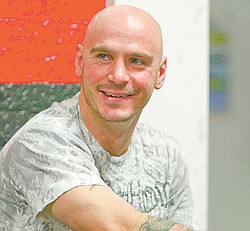 Photo
The Youngstown boxer is all smiles before sparring on Thursday.
Pavlik sparring session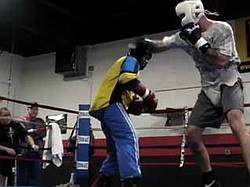 Video
By Joe Scalzo
YOUNGSTOWN
On Thursday afternoon, inside the Southside Boxing Club, Romaro Johnson had just finished his third round of sparring against Kelly Pavlik when he walked to his corner and was asked by trainer John Hutter, "How are you feeling?"
He took a knee, spotted a white bucket and mumbled, "I'm not feeling too good."
For the sake of those with shaky stomachs, it's probably best to fast forward a few minutes from that point — as well as the point where Pavlik's trainer, Jack Loew, started joking with Johnson about what he had to eat that morning — and head straight to his post-sparring interview.
First question: How did Pavlik look?
"You asked me the wrong question," said Johnson, a Cleveland native who, needless to say, didn't finish his four-round appointment. "You should have asked me how his punches feel.
"I didn't see how he looks. I was too busy getting my head snapped back."
Exactly one month from Thursday's workout, Pavlik (36-2, 32 KOs) will get back into the ring for the first time since he lost his middleweight championship belts 355 days before via unanimous decision to Sergio Martinez. He'll meet Alfonso Lopez (21-0, 16 KOs) in the co-main event of May 7's Manny Pacquiao-Shane Mosley bout at the MGM Grand in Las Vegas.
Johnson (11-2) was the last man to fight Lopez, losing by 12th round TKO in a super middleweight bout on Nov. 4 in Dallas. Although he admitted he's not in fighting shape now, Johnson called Pavlik "flawless." And when asked how he thinks Pavlik will fare against Lopez, he chuckled.
"He'll [freaking] kill Lopez," Johnson said. "How much can I say in an interview? Lopez ain't [anything]. Kelly strong, Kelly confident, Kelly fast. Lopez is fighting out of his element.
"After he fights Kelly, he's going to want to retire. That's my personal prediction. Embarrassment. It's going to take him about three years to recover. His heart's going to be gone."
Unlike Pavlik's last three fights, the Lopez bout won't be fought at middleweight; instead, they'll meet at 171 pounds in a 10-round bout. And unlike his past few bouts, Pavlik is spending this training camp working on boxing, not cutting weight.
Loew said Pavlik hasn't looked this good since he fought Gary Lockett in June of 2008, which was also the last time many observers felt Pavlik looked 100 percent. Back then, Pavlik was on top of the boxing world and it wasn't uncommon for his sparring partners to simply walk out on workouts.
"The snap's back," Loew said. "That's what I haven't seen — the snap on his right hand. He's putting three, four, five punches together instead of just that big one-two.
"I think he's got everything back that we had before. The snap, the stamina, his moves, his endurance. It's all there."
Loew said Pavlik weighs about 184-185 pounds — boxers are supposed to be within 10 percent of their fighting weight at the 30-day mark, which Pavlik is — and Pavlik said he has noticed a huge difference between his energy in this training camp compared to his last few.
"Everything's different," Pavlik said. "Even my defense. My movement, slipping punches, blocking punches ... there's just a lot more spring in my step.
"Like I said before, it was just a matter of being drained, exhausted in the last few camps. Now I've got a … load of energy."
Johnson stuck around for the rest of Pavlik's workout on Thursday and vowed several times he'll back for more. Just don't expect him to remove his headgear.
"I might go down to 160 [pounds]," Johnson said. "You think I'm going to stay in his weight class?"
More like this from vindy.com