More than 300 voices will come together in choral event Singing for Peace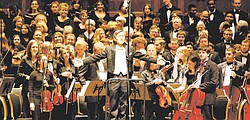 Submitted photo

Photo
IF YOU GO:
What: Giving Voice to Peace choral concert
When: 4 p.m. Sunday
Where: Stambaugh Auditorium, 1000 Fifth Ave., Youngstown
Admission: free
By GUY D'ASTOLFO
YOUNGSTOWN
Hae-Jong Lee is plunking keys on a piano in his office at Youngstown State University.
The choral music professor is demonstrating how disparate notes blend together to make a perfect-sounding chord.
It's lesson, he says, that applies not only to music, but to society.
To turn his analogy into reality, Lee has put together Giving Voice to Peace, a choral concert that will bring together more than 300 singers on the Stambaugh Auditorium stage Sunday.
Lee is the director of choral activities at YSU's Dana School of Music. He is also director of the Stambaugh Chorus, which will be joined by four other choral groups at the free 4 p.m. concert — The Austintown Fitch High School Concert Choir, Beatitude House Children's Choir, Dana Symphonic Choir and Youngstown State Gospel Choir — as well as The Youngstown Connection high school song-and-dance troupe. The Stambaugh Youth Concert Band will provide musical accompaniment on some songs.
Gary Sexton, director of broadcasting at WYSU-FM, will be master of ceremonies.
To mark the event, Mayor Jay Williams has issued a proclamation declaring Sunday "Peace Day" in Youngstown.
Each choral group will present two songs, and the evening will end in a finale in which all of the groups will return to the stage to sing "Deep Peace" and "United in Song."
In Youngstown and throughout the world, examples of violence and suffering are far too easy to find. As a native of South Korea, Lee has an added perspective. He was born into a nation whose own people are split into two, where children are taught to fear and be wary of the other half.
Lee began his studies in that country as an engineering student, although choral singing was always in his heart. Three years into college, he changed his major and graduated with a degree in music from Seoul National University. He came to the United States in 1992 to obtain a master of music degree at Westminster Choir College at Princeton University.
"The more I studied [music], the more I felt that I was in the right place," said Lee.
He received his doctor of musical arts degree in choral conducting and literature from the University of Illinois, and later directed that university's chorus. He also toured several nations with the Westminster Choir. As a vocalist, Lee has performed with several major orchestras, including the the New York Philharmonic Orchestra, Philadelphia Orchestra, the Los Angeles Philharmonic Orchestra and the New Jersey Symphony Orchestra.
He came to the Dana School of Music in 2002.
Although he was a voice major at first, Lee always wanted to be a conductor. It's a goal he long ago achieved.
As a conductor, Lee has gained even more insight into the power of harmony, of people working together, and of listening.
"My job is not to wave my arms, but to hear intently and to give guidance," he said. "To guide them, you have to listen. Sopranos have to listen to the bass [in order to correctly sing their own part].
"Singing is more than noise," he continued. "It is an expression of the spirit, soul and mind. When I get goosebumps while conducting, I know the audience can feel it too."
Lee said he always wanted to hold a massive choral event for the city. He decided last summer to do it, and chose peace as a theme because, he said, it is the most important issue.
In addition to the concert, the winners of a high school art and essay competition will be honored at Sunday's event. Judge Theresa Dellick of Mahoning County Juvenile Court will present awards to the students who best expressed their perceptions of peace.