Ramon Sessions leads Cavs past Charlotte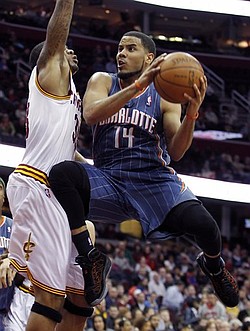 AP

Photo
Charlotte Bobcats' D.J. Augustin (14) puts up a shot against Cleveland Cavaliers' Alonzo Gee in the first quarter during an NBA basketball game Tuesday April 5, 2011, in Cleveland.
CAVS 99
CHARLOTTE 89
Next: Cavs at Toronto, today, 7 p.m.
Associated Press
CLEVELAND
Ramon Sessions scored 18 points to pace seven players in double figures, leading the Cleveland Cavaliers to a 99-89 win over injury-depleted Charlotte on Tuesday night, a loss that hurt the Bobcats' playoff chances.
Charlotte, which is in ninth place in the Eastern Conference, trails Indiana by 21/2 games for the final playoff spot. The Bobcats, losers of three straight, have five games remaining while the Pacers have four games left.
The Bobcats, whose next two games are against Orlando and Miami, dressed only nine players. Leading scorer Stephen Jackson, who averages 18.5 points, missed his third straight game because of a strained left hamstring. The injury could sideline him the rest of the season.
Forward Tyrus Thomas (sore left knee), guard Shaun Livingston (bruised tailbone and forward Eduardo Najera (back spasms) were also out for the Bobcats.
D.J. Augustin led Charlotte with 22 points. Gerald Henderson scored 15 points while Matt Carroll added 13.
J.J. Hickson had 16 points and 19 rebounds for Cleveland, which broke a three-game losing streak. Ryan Hollins also scored 16 points while Alonzo Gee added 13.
Playing the worst team in the league couldn't even help the Bobcats. Augustin's basket 17 seconds into the game gave Charlotte its only lead of the night before the Cavaliers took over. Cleveland raced to an 18-5 lead and was ahead 34-16 after one quarter behind nine points from Hickson and seven apiece from Baron Davis and Gee.
The lead reached 21 points at 51-30 midway through the second quarter. The Cavaliers led 55-38 at halftime, but Charlotte scored the first 10 points of the third quarter. Cleveland didn't score until Davis' free throw at the 6:40 mark. The Cavaliers didn't get a basket in the quarter until Gee's layup with 5:35 remaining.
Charlotte cut the lead to 68-64 late in the period, but the Cavaliers built the lead back to 14 points early in the fourth quarter.
More like this from vindy.com