Building the best roller coaster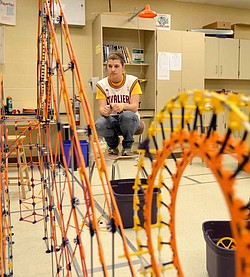 The Vindicator (Youngstown)

Photo
Jackson Milton High School students have had to apply physics properties to improve their roller coaster made out of K'NEX for a nationwide competition. Senior Bethany Sitler said the process has involved trial and error.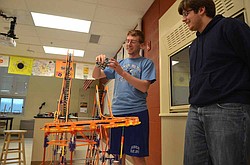 The Vindicator (Youngstown)

Photo
Seniors Bobby Collins, left, and Ben Clark examine their roller coaster days before the competition deadline. The Jackson Milton High School students were part of a small group that met during study hall and after school to complete the project for a nationwide competition.
The Ups & Downs
NORTH JACKSON
The rules are simple: Build a unique roller coaster using only K'NEX pieces.
No LEGO blocks, no wood or metal and absolutely no Super Glue.
"That was an option before we read that part," joked senior Ben Clark.
Jackson-Milton High School students are still confident that their model will work and even has a shot at winning Cedar Point's K'NEX Great Thrill Ride Build-off. But that doesn't mean they'd ride it.
"Maybe if it was made of steel," said senior Bobby Collins.
A group of six students has been working on the model for a little more than two weeks. The contest ended at midnight Sunday.
They're competing with schools all over the country with students in grades six through 12. Five winning classrooms will win 15 tickets to Cedar Point, a $250 K'NEX gift card and a K'NEX set for each student in the class. The winning coaster will go on display at Cedar Point during Match & Science week May 16-20.
Chemistry and physics teacher Stephen Mohr said the students have learned a lot playing with this childhood toy.
"This is more exciting than sitting in a physics class," Mohr said, adding that he's watched students apply physics properties to solve the challenges of supporting the coaster and getting it through loops and up hills.
"We've run into a lot of problems, but we've been able to fix them as we go along," said senior Bethany Sitler.
The goal was to have a corkscrew at the end of the coaster, but that changed once they started building. The team is working with two older K'NEX sets the school had and a third sophomore Bri Scott bought on CraigsList.
"Trying to mesh the old with the new has been hard," Mohr said.
The structure originally was supported by trusses, but that changed too when they found a more effective way to do the same with fewer pieces.
To enter the contest, they'll submit a video and photos of their coaster working plus a 500-word essay about the physics that went into the design. The group, which also includes students Emily Andriko and Paul Satterlee, has met after school for a few hours and during their study halls to complete the project.
It now stands just shy of 5 feet tall, grazing Sitler's chin.
Clark said the project has been a series of trial and error as the team works to build something and then looks for ways to improve it. They've used that method in weighting their car to get it through the loop, then lowering the loop so the car has more time to gather speed down the hill first.
"Momentum plays a big part in this thing," Mohr said.
The team will know if it has won by Tuesday.