Mayoral candidate unveils 'Grow Warren' plan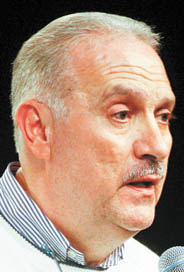 Photo
By Ed Runyan
WARREN
Mayoral candidate Jim Graham has launched an economic-development initiative called "Grow Warren" that he believes will bring jobs to the city.
Graham, president of United Auto Workers Union Local 1112 at the Lordstown General Motors plant, said the plan involves the creation of a committee of about three prominent business people willing to travel and meet with business leaders anywhere in the world to promote business opportunities in Warren.
"These guys could have gone anywhere in the country, but they chose to stay here," Graham said of his panel of business executives.
"We have to reach out. We can't wait for things to fall in our lap," Graham said Monday from his campaign headquarters on East Market Street.
Graham said the area already has three to four groups that try to bring economic development to the area.
"That's commendable, but we have to set a goal and achieve it," Graham said.
An important part of bringing employers to Warren is marketing the city, Graham said.
"The best way to let people know there is a Warren, Ohio, is to get into publications and create a new website," said Graham, describing the current one as "archaic."
"If there's a company in some little burg in California, we need to make them aware of Warren, Ohio," he said, adding that Warren is an "easy sell" because of the amenities it offers, such as the Warren Amphitheater, Packard Music Hall and the arts.
Warren's location, which helped the GM Lordstown assembly plant land the Chevy Cruze, is ideal, because it is the "most centrally located plant in the United States, populationwise."
"I will make certain we are the most business-friendly small town in America," Graham said. "It's no secret that it's been tough to do business in Warren. I'll end that, day one."
Graham's opponent in the Democratic primary May 3 is Doug Franklin, Warren's safety-service director.