Fearless portrayal propels 'Fat Pig'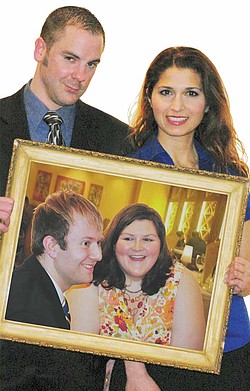 GREEN CANDY CASE PHOTOGRAPHY

Photo
The cast of "Fat Pig" at the Oakland includes (standing) Jason A. Green anDenise Bayer; and (in frame) Kyle Merritt and Jenna Cintavey.
IF YOU GO
What: "Fat Pig"
When: 8 p.m. Friday and Saturday, and April 15 and 16
Where: Oakland Center for the Arts, 220 W. Boardman St., Youngstown
Tickets: call 330-746-0404
If beauty is truly in the eye of the beholder, then why does society put such a premium on unrealistic standards of physical perfection? That's just one of many themes examined in "Fat Pig," the Neil LaBute play currently running at the Oakland.
Helen (newcomer Jenna Cintavey in a spectacular, utterly fearless turn) is a plus-sized, twentysomething librarian who meets eligible bachelor Tom (Kyle Merritt) when he asks to share her counter at a pizzeria. Although sparks definitely ignite between them, Helen doesn't quite believe Tom will call when she gives him her number.
As their (initially stealth) relationship develops, Tom gets inundated with unwanted, self-serving "advice" from co- workers Carter (Jason Green, excellent) and Jeannie (Denise Bayer) about dating outside of his, uh, weight class. (Carter is an archetypal LaButian Alpha Male chauvinist oinker; the snarky Jeannie is still incensed that Tom dumped her after a few "going nowhere fast" dates.) Everything comes to a head when Helen accompanies Tom to his company picnic. The outcome for the star-crossed lovers is both bittersweet and, sadly, preordained.
Directed by the estimable Christopher Fidram, "FP" has no trouble getting the audience on Helen's side. Aside from the fact that she's the most sympathetic female character LaBute has ever written , the wonderful Cintavey imbues Helen with so much spunky charm and radiance it's impossible not to fall in love with her.
Throughout the course of the evening, we watch Tom fluctuate between romantic love for Helen and kowtowing to peer pressure. Among the issues touched on are herd mentality (personified by Carter and Jeannie) and the inability to fess up to our true feelings. It's a lovely piece of work, although LaBute can't resist the impulse to occasionally lay his thesis on with a trowel.
While Cintavey has the advantage of playing a beautifully written role, Merritt isn't quite up to the task of essaying his (largely interior) character. We pretty much have to take on faith that Tom is in crisis since Merritt expresses most of his emotions using the same vocal timbre: excitable and a tad shrill.
He also seems a little dorky and unformed and less the aspiring "Master of the Universe"-type LaBute probably intended.
Merritt's tentativeness as a performer impacts Bayer's portrayal as well. I found it a little hard to believe that smart, brassy career woman Jeannie would be so emotionally invested in an amorphous man-boy like Tom. Musical comedy vet Green, however, continues to impress as a dramatic actor of exceptional promise. In fact, his soliloquy about growing up with a morbidly obese mother is the most affecting moment in the entire play.
Yet it's Cintavey's delightful, touching performance that makes this otherwise imperfect production very much worth seeing.