Warren marks Greek holiday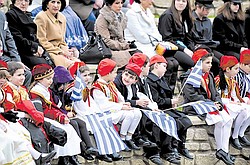 The Vindicator (Youngstown)

Photo
Greek youths gather at the Warren Amphitheater on Sunday to listen to members of the Greek community of Warren give speeches. The event, which also included a parade, took place in recognition of Greek Independence Day.
By Jordan Cohen
WARREN
The city's Greek community views the annual celebration of Greek Independence Day as an emotional time of remembrance — an attitude personified by the Rev. Constantine Valantasis, priest of St. Demetrios Greek Orthodox Church, during the observance Sunday at the Warren City Amphitheater.
"I'm a third-generation Greek-American, and for me, this means everything," said Valantasis, a native of Campbell.
"The profound aspects of our culture are overwhelming, and it's emotional for me to see this community respond to it."
The church, a fixture in Warren for 90 years, conducted the 11th annual observance with parishioners parading from High Street to the amphitheater. School-age children wore the traditional red and white clothing and carried Greek flags of blue and white.
All of this was especially meaningful for Valantasis who was a priest for more than 16 years in Los Angeles.
"I think some of our culture was lost on the West Coast, but you can see it here," he said. "Now I'm in the 'promised land.'"
The celebration honors fighters in the 1821 war of independence by Greeks against the Ottoman Empire, which had controlled the country for 400 years. It was in that spirit that Thomas Vouvounas, 95, the parade's grand marshal, sang a song honoring the Greek flag that was greeted by warm and loud applause as a few spectators wiped their eyes. Vouvounas said he has been a member of the church since 1933.
Dr. George Ploumbis, Warren dentist, invoked a quote from the American Civil War, which he said applied to the Greek fight against Turkish oppression.
"I'd rather have one hour of freedom than a life of slavery," said Ploumbis, who is president of the St. Demetrios Parish Council.
However, Ploumbis said the celebration is not limited to remembrance of those who were killed during the fight for independence 190 years ago.
"We honor their sacrifice, but we also are here to pass on our culture to the next generation," Ploumbis said. "This way, we let them know what we've done and what's next."
Parishioners completed their celebration at the St. Demetrios Center, Atlantic Street Northeast, with a dinner and the children's performance of traditional Greek songs.