Tough times strike bowling
Kay Lanes To Close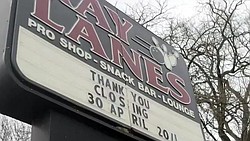 Video
Kay Lanes in Girard, Oh. will close April 30. The bowling establishment opened in 1962.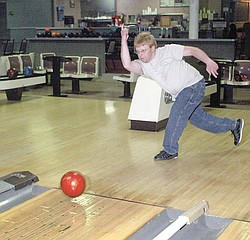 The Vindicator (Youngstown)

Photo
Chris Hood, a long-time employee at Kay Lanes in Girard, aims for the pins at the bowling alley which is closing. Hood started bowling there as a 7-year-old boy.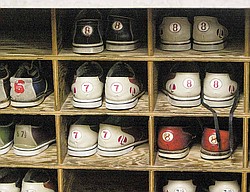 The Vindicator (Youngstown)

Photo
Shoes that likely have been worn by thousands of feet line shelves at Kay Lanes bowling alley in Girard. The long-time business is closing after several years of struggle in a sluggish economy.
BOWLING
BY THE NUMBERS
Industry revenue yearly:
$6 billion
Average income of bowling household: $67,965
Yearly participants:
70 million
Bowling alleys in U.S.: 5,400
Bowling alleys in Ohio:
400
League bowlers:
2.17 million
High school bowlers: 52,653
Source: Sandy Hansell &
Associates, Inc., bowling appraisers and financial advisers
Weak economy, new lifestyles spare no mercy on Valley's alleys
By Karl Henkel
GIRARD
Mickey Kay likens bowling, something that's been a part of his life forever, to golf.
"Anyone can participate," he said. "You don't have to be a pro."
The problem for Kay, owner of Kay Lanes on U.S. Route 422 in Girard, and many other alleys in the Mahoning Valley, is that people aren't bowling as often as they used to. Kay has seen firsthand how bowling, previously considered a recession-proof industry, has quickly and quietly assumed a diminished role.
"Bowling has its peaks and valleys," he said. "Right now, we're in a deep valley."
It's a valley Kay won't ever climb out of. Owner since 1985, 23 years after his father opened shop, he recently announced the closing of the alley at the end of the month, after nearly a half-century in business.
Kay is reluctant to say goodbye, but conceded "it's time," and he's decided to cut his losses.
Ohio has the second-most bowling alleys in the nation, according to bowlingcentersusa.com, trailing only New York. In Trumbull County, Kay Lanes is just three miles from McKinley Lanes in Niles, which in turn is only a 10-minute drive from Niles Lanes.
With the population of the Valley rapidly falling, Kay said the greater Youngstown area may have an overabundance of alleys (more than a dozen), and his happened to be one of the casualties.
"We have more lanes than we need," he said.
Flash back to 1999, a time Tom Eframedes, owner of Holiday Bowl in Struthers, rejuvenated his alley, a brown brick building easily mistaken for a simple dining hall on state Route 170.
He had just installed automatic scoring throughout his 36-lane establishment and said the move boosted revenue by $50,000 that season. It's what a recent industry report by Global Industry Analysts Inc. outlined as one way alleys can diversify and attract larger crowds and one of the easiest technological upgrades alleys can make, though many bowlers today take electronic scoring for granted. If an alley doesn't have it, they aren't likely to bowl there.
Eframedes said there's not a lot an alley can offer a customer besides a clean establishment, equipment and food, but with the scoring system, more player-friendly ways to oil lanes and resin balls that help inflate scoring, the technical side has received more attention.
"If people are scoring, they're happy," Eframedes said. "They don't want to score poorly and leave frustrated."
Though alleys have tried to stay ahead of the tech curve, some say they're falling behind because of video games.
The rising popularity of Wii, a Nintendo gaming system that offers a recreational game "Wii Sports," allows gamers to bowl (using controllers) in their homes at a one-time cost of $50.
"You used to see kids outside playing all the time," Kay said. "Now you don't see anybody. They're all inside playing video games. It's a shame, but it's a fact of life."
The average cost for one line, or game of bowling, is about $3 in the Valley.
Another fact of life hit alleys hard in late 2006, when a statewide indoor-smoking ban took effect.
Eframedes said alleys' profits depended on a trifecta that included sport, beverage and lifestyle: bowling, beer and cigarettes.
Immediately after the ban began, Eframedes said attendance remained somewhat steady, but it was his food and drink sales that took the biggest hit.
Revenues decreased by nearly $46,000 the first season after the ban.
As Eframedes said, if patrons can't smoke at the bar, they aren't inclined to buy food and are less likely to buy beverages.
Gina Colla, 35 of Youngstown, who bowls on two leagues each week, said the smoking aspect may be overblown. "I don't think people liked it at first," she said. "But I think people have gotten over it."
The loss in revenue led to decreased profits, but Holiday remains slightly profitable.
The same can't be said for Kay, who, after "a little more than breaking even" a decade ago, has "not even been close" the past handful of years.
Coupled with the souring economy, and less pocket money to go around, it's been tough. Even so, Eframedes hasn't increased open-bowl rates in more than three years.
Kay said he's placed advertisements in the past, and more often than not, he'd break even on the enhanced publicity, but it simply isn't possible with little extra money available.
Eframedes, on the other hand, said he's never placed any form of advertisement, relying instead on word-of-mouth.
Michael Pontikos, an advertising and marketing professor at Youngstown State University, said word-of-mouth publicity is an older way of thinking, and that it likely has contributed to bowling's falling adoration.
"No matter what, you have to have a mix of traditional and non-traditional [advertising]," Pontikos said. "Sometimes it can be a waste of money, but using social media websites ... coupled with smaller advertisements going straight to the homes, will work better in combination."
But instead, owners opt to house high school teams (Holiday houses Struthers) or charity bowling fundraisers, such as an upcoming April 10 event for the American Cancer Society at Camelot Lanes in Boardman.
Camelot has Cosmic bowling (glow-in-the-dark), to attract younger crowds, a type of diversification Pontikos said is necessary in all walks of business.
"You have a bowling alley? That's great, but what are you going to do for everybody else?," he said. "What are you going to do for the kid who doesn't like to bowl but has to go with the parents?"