Receiver issues on display in scrimmage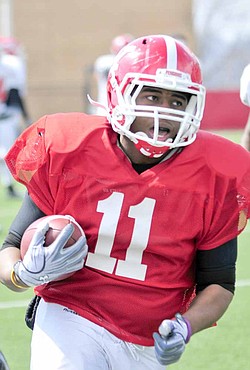 The Vindicator (Youngstown)

Photo
Youngstown State's Kevin Watts runs back a kick during Saturday's scrimmage at YSU's Stambaugh Stadium.
By Joe Scalzo
YOUNGSTOWN
In YSU's first scrimmage last spring, wide receiver Dominique Barnes played his way out of the coaches' doghouse with a breakout performance, giving the Penguins a surefire No. 1 receiving threat.
That didn't happen on Saturday. Not even close.
YSU's race to find a No. 1 receiver looked more like a trot, as junior Juilian Harrell emerged as the early leader with a five-catch, 43-yard, two-TD performance that looked more impressive on paper than in person.
Senior Pat White (three catches, 64 yards, TD) looked good at times but struggled with drops, as did sophomore Kevin Watts (one catch, 23 yards). Senior Ely Ducatel had two catches for 52 yards but looked more like a No. 2 or No. 3 option.
"That's what we've been dwelling on," YSU coach Eric Wolford said. "We did make a couple plays here and there [in the passing game] but overall we needed to have more of a big-play threat.
"That's something we've got to continue to keep dwelling on [finding a No. 1 receiver] so we can put the ball in his hands and do something after he catches it."
Harrell (6-2, 225) saw significant playing time last year and showed flashes of potential, but too often on Saturday he failed to beat man coverage or show an inclination to fight for the ball.
Harrell, Ducatel and Watts got the most work with the first team, but it was tight end Nate Adams (three catches, 64 yards) who exceeded expectations.
Bottom line? The team misses Barnes.
"What clearly stands out is the dropped balls," Wolford said. "We're going to start getting guys on Jugs machines after practice. For every drop, they'll start catching 20 balls.
"They've got to get used to the ball coming at them faster. The ball comes at you faster in college. If we don't start getting better at it, we'll have new guys in there."
YSU's running backs looked good, with sophomore Allen Jones seizing his opportunities by leading all runners with 101 yards on seven carries with two TDs, including a 65-yarder.
Saturday's stats are a bit misleading since it was a situational scrimmage — YSU worked on everything from short yardage to red zone to starting at its own 1 — but Wolford also said he wanted to see guys make the most of their opportunities.
Outside of a personal foul penalty, Jones did.
"I love the long TD run, I just don't like the personal foul penalty," Wolford said. "Allen's a very emotional player and he gets excited. We've just got to settle him down a little bit when he gets upset."
The Penguins' defense also played well, particularly in short-yardage situations, which was a good sign for a unit that struggled last fall.
YSU was missing several projected defensive starters — the team's a little banged up right now — but backup cornerback Matt Romeo, backup safety Justin Austin and backup linebacker Ali Cheaib each had interceptions, while defensive end Daniel Stewart forced a fumble and several other Penguins made plays.
"I think the defense did a good job," said sophomore quarterback Kurt Hess, who completed 15-of-28 passes for two TDs and an interception. "They mostly played a base defense but the linebackers, safeties and corners all challenged us."
In all, YSU would be lucky to earn a C on Saturday. But it was just the seventh practice of the spring, and with several key players hurt — and 30 more coming this summer — it's not the time to draw too many conclusions.
"I think we made some progress," Wolford said. "But it's never as fast as you want as a coach."
More like this from vindy.com