Northeast Ohio Pet Expo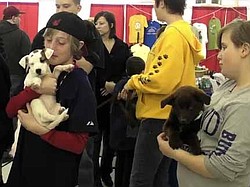 Video
Northeast Ohio Pet Expo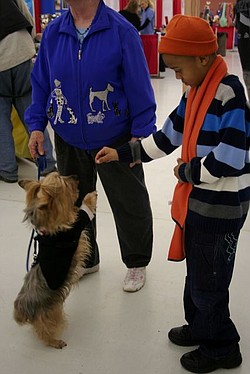 Gallery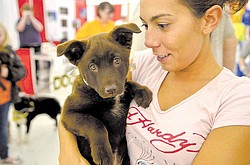 The Vindicator (Youngstown)

Photo
Lori Henninger of Austintown plays with a puppy available for adoption through Angels for Animals, an organization that finds homes for animals and provides spaying and neutering services. Angels is one of the participants at the Northeast Ohio Pet Expo Show and Sale which continues today at the Eastwood Expo Center in Niles.
By Jordan Cohen
NILES
Judy Henninger, coordinator of the Northeast Ohio Pet Expo Show and Sale, was all smiles as she watched hundreds of pet owners, many of them accompanied by dogs, cats and even a cockatoo, wander the aisles of exhibits at the Eastwood Expo Center on Saturday.
"As a pet lover, I feel this is necessary in our area because there was nothing going on around here where [pet] owners could get information all in one place," said Henninger, of Austintown, who launched the first expo three years ago.
Henninger said she expects "at least a couple of thousand" to attend the expo, which continues today.
Many owners brought their pets, mostly dogs, that ran the gamut of sizes from a Great Dane to a tiny terrier.
"He's 120 pounds — still growing — he eats twice a day, and it's a lot," said Arnold Frieson of Farrell, Pa., about Dexter, his year-old Great Dane.
At the opposite end of the spectrum was Tink, a miniature rat terrier who is 3 months old and "barely weighs 2 pounds," according to his owner, Betty Murphy of Eastlake.
"Tink's best friend is our 60-pound Australian shepherd dog who is very gentle when they play," Murphy said.
Exhibit vendors offered a variety of pet products, grooming services and even a mobile petting zoo containing a llama, alpaca, miniature horse and donkey.
Animal-charity groups brought dogs for rescue and adoption. One of the newest is Athena Animal Advocacy Group of Youngstown, which helps financially strapped owners of dogs and cats by distributing food for their pets.
"This is only a temporary fix, but we will help out [owners] as much as possible if we see they're trying," said Mandy Cutright, who founded the group along with her mother. Cutright said she was able to start the group this year after winning $5,000 in a national contest with her advocacy proposal. Athena limits its operations to Mahoning County, but Cutright said she hopes to expand into Trumbull County by Christmas.
Perhaps the most unusual of the vendors is Doris Straka, who describes herself as an "animal communicator."
"I have a gift, and it's telepathic, a mind- exchange," said Straka, 65, of Kirtland, who emphasizes that she should not be confused with being a trainer or dog whisperer.
"I don't deal in behavior modification," Straka said. "I ask animals what the problem is, and I get an understanding of what the animals hear, see and feel." Besides dogs and cats, those animals have included birds, rabbits, an iguana and racehorses. She said she has worked with Thistledown and Northfield racetracks and 4-H.
Straka said she is not bothered by skeptics who question her view of telepathy with animals and vows to continue being a communicator "as long as my gift is still here." Straka was asked if she has any pets.
"Yes," she said, smiling, "my husband." She quickly added that she does have dogs, cats and a turtle.
Hours for the Pet Expo are 10 a.m. to 5 p.m. today with an admission charge of $5 for adults. Children under 12 are admitted free, and so are the pets.