'Someone Who'll Watch Over Me' is compelling theater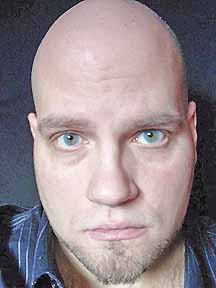 Photo
IF YOU GO:
What: "Someone Who'll Watch Over Me"
Where: The Calvin Center for the Arts, 755 Mahoning Ave., Youngstown
When: April 9, 10, 15 and 16
Tickets: Call 330-507-2358
There's real magic afoot at the Calvin Center for the Arts these days. In Robert Dennick Joki's Rust Belt production of Frank McGuinness' 1993 hostage drama "Someone Who'll Watch Over Me," three actors spend 21/2 hours chained to a wall, unable to physically interact or move about in the normal way. And yet Joki — with no small help from his extraordinary cast — turns it into the most compelling theater imaginable. It's the kind of creative alchemy only a gifted shaman such as Joki could possibly pull off.
The challenges in working with material such as this are manifold. How do you build — and maintain — audience interest when the action is so relatively static? One set (a dusty jail cell); actors with limited navigability; a play stuffed to the gills with monologues (some better, or at least more eloquent/poetic, than others).
Any sane director would run screaming into the night when confronted with these types of challenges. I'm not quite certain how Joki did it — sleight-of-hand practitioners don't give up their secrets easily — but "SWWOM" is so artfully directed and masterfully acted that gratitude is the only appropriate response to a show this soul-satisfying.
The set-up for the play is deceptively elemental. In Beirut, Lebanon, three men (an American doctor, an Irish journalist and an English schoolteacher) are being held hostage by unseen captors. Is it politically motivated, or a simple "kidnapping-for-ransom" crime? McGuinness never explicitly says, and — truth be told — it doesn't really matter. What's important is the metaphorical/metaphysical implications of the act itself. To be held prisoner in a dank, claustrophobic space for an extended period of time would test the mettle of even the most strong-willed, morally upright individuals.
It's how you choose to pass the time under such extreme circumstances that marks the individual. On that count, Yank Adam (Dan Poppke), Irishman Edward (Chuck Kettering) and Brit Michael (Brandon Smith) distinguish themselves in exemplary fashion.
Not that it's easy. Fantasy role-playing, sing-alongs, re-enacted Wimbledon matches, an impromptu visit by the Queen Mother and random outbursts of laughter help keep them sane. (The latter really does prove to be the best medicine; it also drives their guards crazy.)
If McGuinness' play isn't as deep or profound as it seems to think it is (some of the writing is too glib for its own good; some passages, especially in the somewhat overextended first act, smack of wheel-spinning), you'd never know it from Joki's sterling production.
Though I've consistently admired Smith's work in the past (YSU's "The Shape of Things," Rust Belt's "Medea," the Oakland's "Reefer Madness," etc.), his quietly devastating, heart-stopping performance belongs in a (master's) class all by itself. Kettering remains one of the area's consummate shape-shifters. He makes Edward so distinctly — and distinctively — Irish, you'd swear he'd just climbed down from Kilgary Mountain. My only reservation about Poppke's moving turn is that he seems a tad young to be entirely convincing as a physician. (Perhaps the script could have been revised to make Adam a medical student traveling abroad.)
In a recent interview, Joki confessed some apprehension about tackling his first play with an all-male cast. But after this latest triumph, maybe he should consider mounting O'Neill's "The Iceman Cometh." Apparently there's nothing the chameleonic Joki is incapable of nailing.
"Someone Who'll Watch Over Me" runs through April 16 at the Calvin Center for the Arts, 755 Mahoning Ave. For reservations, call 330-507-2358.