Williams still in race for auto czar, but Congress may abolish position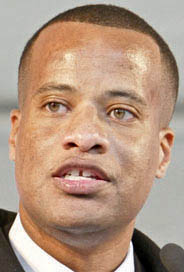 Photo
Youngstown Mayor Jay Williams
YOUNGSTOWN
Mayor Jay Williams is still in the running to be the nation's auto czar.
But if House Republicans succeed in eliminating funding for that job, officially called the director of recovery for auto communities and workers, and eight other "czars," the position would be gone.
Williams, a Democrat, confirmed in October that he had met with White House officials to discuss the vacant position. While he is still under consideration, Williams has declined to discuss the issue since, including saying, "No comment" on Thursday about the job.
The Republican-controlled U.S. House of Representatives approved an amendment to a bill in February by a 249-179 vote to eliminate the salaries of the nine policy czars.
Senate Democrats, who have a majority in that legislative body, criticize the legislation and want to maintain funding for the positions.
With Congress unable to agree on a 2011 fiscal budget, the future of the czars is uncertain.
"The so-called 'czars' are unelected bureaucrats with no accountability to either taxpayers or Congress and who wield outsized power in an administration that is becoming notorious for doing an end-run around the American people," said Jessica Towhey, spokeswoman for U.S. Rep. Bill Johnson of Poland, R-6th.
"House Republicans are looking to eliminate waste in government — eliminating funding for these czars is a great place to start."
However, U.S. Rep. Tim Ryan of Niles, D-17th, said, "I believe that the president of the United States should have the authority to appoint White House advisers to help him administer the government and effectively deal with today's challenges. Instead of climbing the mountain, House Republicans are focused on destroying a mole hill."
U.S. Sen. Rob Portman, R-Ohio, supports Williams' joining President Barack Obama's administration.
But Portman said he has "a concern" that the president appoints policy czars without having them meet with and be confirmed by the U.S. Senate as are Cabinet members.
Portman said he hopes the president and his advisers could persuade Williams to join the administration in some other capacity because it "would be great for Ohio and the Mahoning Valley." Portman also said Williams would be a great asset to the administration.
U.S. Sen. Sherrod Brown, a Democrat, also supports Obama appointing Williams as the auto czar calling the mayor "a strong leader."
The senator added: "With hundreds of thousands of Ohio jobs directly or indirectly depending on the auto industry, it's critical to have an individual in that role who understands the ins and outs of the auto world, and how communities rely on the auto sector for good jobs and corporate citizenship. While his departure would mean a great loss for Youngstown, I think Mayor Williams would make an excellent director."
The auto czar's responsibilities include providing federal money to assist displaced autoworkers with job retraining and to communities that largely depend on the industry as a key component of their economy. The federal government loaned billions of dollars to General Motors and Chrysler to keep those two U.S. auto companies in business.
Ed Montgomery resigned as auto czar in June 2010 to be Georgetown University's dean of public policy. Obama appointed Montgomery in March 2009.
Williams was re-elected in November 2009 to his second term as Youngstown mayor. The city charter permits mayors to serve no more than two consecutive four-year terms.
If Williams is offered the federal job and takes it, the city charter calls for the president of city council to automatically fill the remainder of the mayor's term. The term expires Dec. 31, 2013.
Charles Sammarone, a Democrat, is currently the president of council. If Williams leaves, Sammarone said he would fill the unexpired term as mayor.
More like this from vindy.com