GM optimistic on Cruze sales figures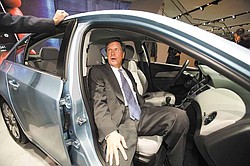 The Blade/Andy Morrison

Photo
Ohio Governor John Kasich sits in a Chevy Cruze at the North American International Auto Show in Detroit.
Lordstown
General Motors Co. is expecting total sales of the Lordstown-built Chevrolet Cruze to exceed 50,000 for the first quarter of 2011.
Tom Mock, spokesman for the Lordstown plant, said the facility has been running its normal three-shift production, and he is looking forward to seeing the Cruze's March sales figures, which are due out today.
At Diane Sauer Chevrolet in Warren, general manager John Maze said Cruze sales accounted for 36 percent of the dealership's total new- car sales in February.
"The Cruze sales have just been way above what we ever expected," Maze said. "It's a car that hits every age bracket."
The dealership's March sales figures aren't available yet, but Maze said Cruze sales have been consistent.
David Sabolsky, general sales manager at Spitzer Chevrolet in North Jackson, said the Cruze's popularity in the Mahoning Valley can be attributed partially to the fact that it's locally made.
"The guys that are building the car, they're proud of what they've made, so they're coming in and buying it," Sabolsky said.
Sabolsky said the dealership has sold 142 Cruzes during the first three months of this year.
Cruze retail sales in the first quarter of 2011 are expected to be triple that of the Chevrolet Cobalt during the first quarter of 2010, according to a GM news release.
The Cruze replaced the Cobalt, which was retired last year.
Chevrolet spokeswoman Lesley Hettinger said total Cobalt sales for the first quarter of 2010 were 20,757. Hettinger could not give the retail-sales figure.
In a GM survey, more than 500 Cruze owners said their reason for purchasing a Cruze over any other vehicle was its fuel- efficiency and exterior, according to the news release.
The Cruze gets up to 36 mpg on the highway, according to the Chevrolet website.
Hettinger said the Cruze Eco is EPA-certified to get up to 42 mpg on the highway.
"With the all-new Cruze, we set out to build the best compact car on the market," Lisa Hutchinson, Chevrolet Cruze marketing director, said in the release. "The Cruze is priced to compete in the compact segment. But the Cruze offers the styling of a more-expensive car, as well as more standard safety features than any other compact and more miles per gallon with the Cruze Eco model. Clearly, that's a combination many customers can appreciate."