Federal Building renovation to add restaurant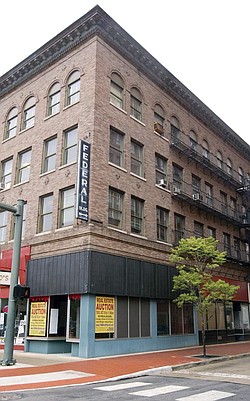 Photo
The Federal Building in downtown Youngstown
By Grace Wyler
By GRACE WYLER
YOUNGSTOWN
Construction is under way on the $2.4 million renovation of the historic Federal Building, a project that is slated to expand dining and real-estate options along downtown's main drag.
Vernon's Cafe, a popular Niles eatery, plans to open a restaurant on the ground floor of the building sometime next year, according to 1st-Ward Councilwoman Annie Gillam.
The new restaurant, at the northwest corner of West Federal and Phelps streets, will sit adjacent to the shuttered Rosetta Stone, which closed its doors last month, with owners citing concerns about the economy. The Rosetta Stone branch in the Poland library also has closed.
The Rosetta Stone's difficulties may not be relevant to the new Vernon's restaurant, Gillam said.
"A lot of times, one restaurant will fail where another one will succeed," she said. "As long as the restaurant has good food and good service, it should do OK."
Vernon's Cafe declined to comment on its expansion plans.
The Federal Building project, which also will include apartments and commercial office space, meets an "unmet need for housing and dining in downtown Youngstown," said Dominic Gatto III, a partner of the The Gatto Company, the Niles-based commercial real-estate developer that owns the property.
"The location makes sense with the renaissance that Youngstown has seen," Gatto said. "We find ourselves fortunate to be a part of that."
The building is expected to be finished and ready for tenants by early 2011, he said.
The increased availability of housing downtown will help transition the city's traditional business center into a residential community, said Youngstown Mayor Jay Williams.
"This is another significant step in the revitalization of the city's central business district," Williams said. "We appreciate the investment — it's important to the Valley."