Salem defense solid in AAC White win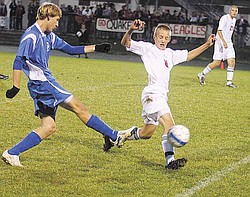 Photo
Daniel Rumsey of Salem, center, attempts to block a shot by Connor Syersal of Hubbard during a soccer game Tuesday. Salem won 3-0.
By CHUCK HOUSTEAU
SALEM
Salem's goal keeper Kenny Saltsman was cold, wet and a whole lot of happy after the Quakers defeated Hubbard 3-0 in an All-American White Tier game Tuesday night at Salem.
Saltsman was part of a Quaker team that went 0-16-1 last year but has now all but wrapped up the White Tier championship of the AAC with the win over the Eagles.
"This is great. I've never felt anything like this before," said Saltsman. "It's an amazing feeling."
Salem (8-4-1, 4-1) has one league game left but owns the tie breaker over Hubbard (7-3-1, 2-2) after defeating the Eagles for the second time this season.
The Quakers beat the Eagles 2-0 earlier this year at Hubbard.
"We got the shutout. We got the win and that's all that matters tonight," said Saltsman.
Although the Quakers scored three goals against the Eagles, it was their defense led by Saltsman and his defensive back line of Paul Matak, Ryan Benson, Jordan Umbs and Seth Leininger that was the key to victory.
"Our defense has been big all year," said first-year Salem coach Matt Freeman. "That is our seventh shutout of the year so I think that speaks volumes of how big our defense has been.
"And let me mention our keeper Kenny Saltsman. Our senior captain was huge. He owned the ball."
Saltsman was credited with 10 saves but his athleticism and ability to go after loose balls was even more impressive.
Hubbard, led by their standout scorer Nick Pedaline, threw everything they could at Saltsman in the first half.
The Eagles offense kept Salem's scoring chances minimal in the first half and it looked like the two teams would go to the break with a scoreless tie.
But with Salem just looking to clear the ball from its end of the field with the clock ticking down in the final minute, Brice Cushman sent a clearing pass to a wide open Brad Larson who had beat the defense and was all alone against Hubbard keeper Tyler Pagley.
Larson drilled the ball past Pagley into the right side of the goal for a score with just 16 seconds to go in the half.
"That was a game-changer," said Hubbard coach Rodney Lehman. "We had one mistake in the first half. We did own the first half. We had all the scoring chances. We had all the opportunities.
"One mistake in the first half cost us."
Hubbard had a few more chances in the second half but Saltsman made several point-blank saves and Matak made a tremendous save of a rebound shot when Saltsman was out of position.
"Our defense was outstanding," said Saltsman. "We've played so well together back there and Leininger did a great job of marking their scorer (Pedaline) all night."
Salem scored twice in the final 5:03 to put the game away.
Keaton O'Brien headed in a rebound shot after Pagley made a great save of a shot by Cushman.
With six seconds left Blake Veglia scored after taking a great pass from Daniel Rumsey and blasting a shot into the net from 15 yards out.
Freeman was most pleased with the turnaround the team has made in his first season as head coach.
"I think the kids needed a lot of direction," Freeman said. "We push these guys every day. We push them at every practice and we never accept anything except one hundred percent all the time.
"I think the kids have bought into that and they put the hard work in to turn this thing around."