Preseason pep talk inspired McDonald golfers to excel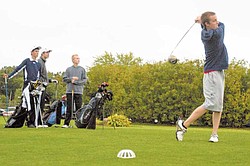 Photo
McDonald golfer Brandon Pustay tees off during practice at Mahoning Country Club. The Blue Devils fi nished in third place in the Inter Tri-County League this season.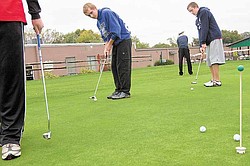 Photo
Geoffrey Hauschild|The Vindicator.McDonald High School golf team members' Zach Gillespie, Jason White, and Brandon Pustay practice their putting at the Mahoning Country Club during a practice tuesday evenning..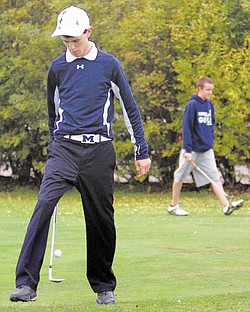 Photo
Geoffrey Hauschild|The Vindicator.Troy Dombroski juggles a golf ball while practicing his putting with the rest of the McDonald Golf Team at Mahoning Country Club on Tuesday evening.
Preseason pep talk inspired McDonald golfers to excel
By Pete Mollica
MCDONALD
Well before the first golf ball was ever struck to begin the 2010 golf season, McDonald High junior Brandon Pustay got all his teammates and coaches together and told them that if the Blue Devils were going to have a winning season it was up to them to make it happen.
Pustay's words must have had an effect on the Blue Devils as they posted an 11-9 record, the school's first winning season since the sport was reinstated in 2006.
Today the Blue Devils are hoping this season's efforts are going to pay some big dividends when they take part in the Division III sectional golf tournament at Riverview Golf Course in Braceville.
McDonald hadn't had a winning season in golf since the 1972 campaign, but then the program was dropped after the 1977-78 season and wasn't reinstated until four years ago.
Ed Dolsak, a veteran of 28 years in the McDonald schools, is the head coach, now in his second season, while being assisted by Jeff Dombroski, who helped guide the program through its first two seasons.
"It's all about the kids, they're the ones that have made this season what it is," Dolsak said.
"Enthusiasm is the key to this year's success," added Dombroski. "These kids have just worked so hard and have been so dedicated to making this a winning season."
The Blue Devils finished fourth in the regular Inter-Tri-County League season with an 8-6 record and then finished third in the ITCL tournament at Reserve Run Golf Course which gave them a tie for third place in the overall league standings.
Senior Troy Dombroski has been the No.1 man for the Blue Devils all season. He's a four-year letter winner and is an even-par shooter, averaging 35-36 this year.
"The biggest thing about Troy is his leadership and he's encouraged everybody to be a complete team player," said Dolsak. "He has a tremendous work ethic and he's the type of player that after a match he's right back out there practicing trying to make himself even better."
Junior Justin White is the team's No. 2 man. A two-year letter winner, he carries a 42 average, while his senior brother Jason, a three-year letterman, has a 43 average along with Pustay and junior Ricky Hedrick. They make up the team's top five who will be competing in today's sectional event.
"I think that everybody worked just a little harder this season and it's paid off," said Troy Dombroski. "We've had the whole team out working every day."
Dombroski tied Lowellville's Anthony Alfano for medalist honors at the ICTL tournament, both shooting 74. He also advanced to the Division III district tournament as a junior last year and just missed out by a stroke of qualifying for state.
"I played pretty good last year, but came up short, this year we're hoping for the whole team to qualify," he said.
The other members of the team are seniors Ben Jamison and Zach Gillespie, junior John O'Neill and freshman Betty Jo DelFratte.
"It's been such a pleasure to work with these kids," said Dolsak. "They are hungry to learn and not afraid to put in the hard work to make things happen.