Youngstown Mayor: Violence must not define us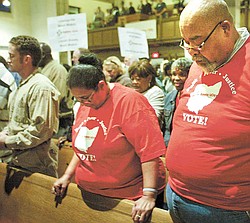 Photo
Among those praying at Monday night's Community Congress at Trinity United Methodist Church downtown were Gladys Bowers and Thomas Swanson, attending with a group from Union Baptist Church.
By SEAN BARRON
YOUNGSTOWN
Two recent homicides in Youngs-town must galvanize people to take back the city and reinforce the idea the senseless violence will not be tolerated.
That was a message Mayor Jay Williams drove home during Monday's first Youngstown Community Congress gathering, hosted by the Mahoning Valley Organizing Collaborative.
About 700 elected officials, members of city block-watch groups and citizens coalitions and others attended the two-hour gathering at Trinity United Methodist Church, 30 W. Front St., to discuss and get answers on key issues such as crime, blight, neighborhood safety, better access to healthful foods and job creation.
"It sickens me," Williams said about the killings of 67-year-old Vivian Martin, a real-estate agent who was found badly burned last week in an East Side home that had been set afire; and Thomas J. Repchic, 75, who was shot to death Saturday while driving on the South Side. "We cannot allow these incidents to define who we are."
The mayor noted that despite the tough economy, his administration is continuing to invest in and expand partnerships with the city's safety forces. In addition, he said, a Violence-Gun Reduction Interdiction Program and saturation patrols are continuing in the city.
Williams has issued a $10,000 reward for information leading to the arrest and conviction of whoever is responsible for the city's 19th homicide this year.
"We've seen some movement in the [Repchic] case, and I'm hopeful that soon we'll have some arrests made," he added.
Several speakers, such as Gloria Hobbs, voiced concerns about the lack of grocery stores and access to healthful foods in Youngstown.
Calling the situation "a food desert," Hobbs, a member of Trinity United, said the nearest major store is about two miles from downtown residents, many of whom are elderly or disabled.
"I have to take a bus or pay someone to get food," Hobbs said. "I'm on a fixed income and in subsidized housing."
Pledging their support for a statewide initiative to finance fresh-food efforts were U.S. Rep. Tim Ryan of Niles, D-17th, state Sen. Joe Schiavoni of Canfield, D-33rd, and Matt Lewis, the Republican candidate for the 33rd District seat.
Making such foods more accessible would help reduce the incidence of childhood obesity and other diseases, Ryan said, adding that obesity in youngsters is placing an enormous strain on the country's health-care system.
Among the benefits of urban gardens and farms are summer employment for young people, reduced transportation costs and easier access to fruits and vegetables, Ryan continued.
"This is something that is absolutely doable for us," he added.
Neighborhood blight was on the minds of several people such as Karen Fox.
Fox, a member of the Garden District Block Watch and a 20-year West Side resident, said she's seen an exodus of businesses and residents from her area, which has led to neighborhood decay. She and other neighbors are trying to maintain vacant properties in their area, she said.
Discussing the value of establishing land banks was Chris Travers, president of the 7th Ward Citizens Coalition, who said such banks would get vacant properties in the hands of responsible people a lot faster, thereby reducing blight.
Several elected officials signed a pledge to support a local countywide Land Revitalization Corp. in place by 2011.