Strickland sums up Kasich as 'reckless'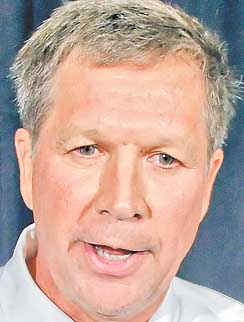 Photo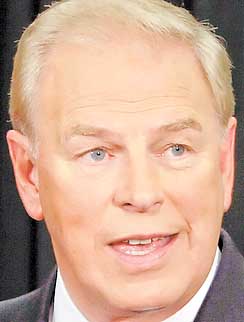 Photo
Ohio Democratic Gov. Ted Strickland
By DAVID SKOLNICK
YOUNGSTOWN
Gov. Ted Strickland describes John Kasich, his Republican challenger, as "reckless," "unfocused" and "undis-ciplined."
"John talks about things he knows nothing about," Strickland, a Democrat, told The Vindicator editorial board Monday.
The governor added that Kasich "says a lot of things he has difficulty substantiating."
During the one-hour discussion, Strickland repeatedly called Kasich "reckless" about a variety of issues, including the Republican's contention that he eventually would eliminate the state's income tax. The tax makes up 46 percent of the state's general-fund revenue, Strickland said.
"Wouldn't you think someone who wants to be governor would think this through?" Strickland said.
The governor added that Kasich "has no major ideas that I'm aware of that will move Ohio forward."
In response, Rob Nichols, a Kasich campaign spokesman, said: "These are the kinds of things you talk about when you can't talk about your own failed record. Ted Strickland has no plan and no idea for how to create jobs in this state — if he did, Ohio wouldn't have lost 400,000 jobs under his watch."
Without his "steady leadership," Strickland said the job loss could have been a lot worse. If Kasich were governor the past four years, the job-loss number would be higher, Strickland said.
"Wall Street, particularly Lehman Brothers, had more to do with the job loss in Ohio than I did," Strickland added.
Kasich was one of about 700 managing directors for Lehman, a major financial-services company, when it went bankrupt two years ago.
Strickland said he wasn't surprised that a Sunday poll by the Ohio News Organization, a consortium of the state's eight largest daily newspapers, including The Vindicator, shows Kasich ahead of Strickland 49 percent to 45 percent with a 3.4 percent margin of error.
Previous polls had Kasich ahead by much more.
Strickland said Monday that his campaign's internal polling, which is done weekly, currently has him trailing Kasich by 2 percentage points. That's 1 percentage point better than last week's internal poll, Strickland said.
Strickland said one reason he was trailing by more in August was because Kasich began airing television commercials early that month and hasn't stopped.
Strickland began his television-ad campaign last week.
"TV is pretty powerful; we expected to take the hit," the governor said. "We had resources we could have used."
But Strickland said his campaign decided it would be wiser to use the money for commercials closer to the election.
Also Monday, about 200 people, including two dozen Democratic officeholders in the Mahoning Valley, attended a rally featuring Strickland, his running mate Yvette Brown and Ohio Supreme Court Justice candidate Mary Jane Trapp at Youngstown State University's Kilcawley Center.
Mahoning County Democratic Party Chairman David Betras, who emceed the rally, said the Strickland campaign may be down in the polls, "but we're not out."
Youngstown Mayor Jay Williams, a Democrat, emphasized that "complacency is the enemy."