V-GRIP takes credit for homicide reduction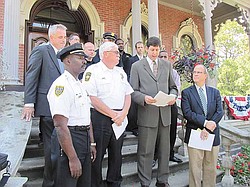 Photo
Law-enforcement officers and others who carried out the Violence and Gun Reduction Interdiction Program law-enforcement initiative this summer in the Mahoning Valley stand on the front steps of Warren City Hall during a press conference to declare that V-GRIP was an unqualified success, taking more than 150 firearms off the street and resulting in the arrest of 600 people. Shown in the front row Thursday are, from left, Youngstown Police Chief Jimmy Hughes; Warren Police Chief Tim Bowers; Steven M. Dettelbach, the U.S. Attorney for the Northern District of Ohio; and Warren Mayor Michael O'Brien.
By ED RUNYAN
WARREN
Homicides and gun violence were down in Youngstown and Warren this summer, and officials involved in the V-GRIP law- enforcement initiative said Thursday they think V-GRIP was the reason.
Over the past 10 weeks, the Violence, Gun Reduction Interdiction Program took 150 guns off Mahoning and Trumbull County streets and resulted in 15 federal indictments and 600 arrests, Steven M. Dettelbach, U.S. Attorney for the Northern District of Ohio, said from the steps of Warren City Hall.
About half of those arrests, a third of the federal indictments and one-fourth of the guns came out of Warren.
The effort was intended to continue only through early September, but the relationships established among the participating local, state and federal agencies are enabling those agencies to continue to work effectively together, Warren Police Chief Tim Bowers said.
All of the agencies that worked on V-GRIP conducted joint law-enforcement activities before V-GRIP. But Bowers said, "The nice thing now is I got a face and a name to call" as a result of having worked closely with the V-GRIP officers.
V-GRIP participants have been meeting every week since July to discuss crime and violence and have been putting together a "game plan" to combat them, Bowers said.
"Cops count," Bowers said of the additional personnel that came to town all summer to focus the attention on "hot spots" and specific individuals. For instance, probation officers were able to identify potential problems resulting from individuals re-entering the community from prison, Bowers said.
The main participants in V-GRIP were the U.S. Attorney's Office, U.S. Marshals Service, FBI, ATF, DEA, federal, state and local parole officers, Ohio State Highway Patrol, Ohio Bureau of Criminal Identification and Investigation, and police departments in Youngstown, Warren, Austintown, Boardman, Campbell, Struthers and Mill Creek Metroparks.
The criminals were aware of V-GRIP, Dettelbach said, because they sometimes asked officers if they were "V-Gripping tonight."
He added, "In some ways, that's a sign we've made a difference in the community and gotten the message out that we're going to work together at all levels to make sure that those who are terrorizing our community with gun violence don't run the community. It's the rest of us who run this community."
Youngstown Police Chief Jimmy Hughes, whose five-officer V-GRIP unit has seized 114 firearms since July 4, said the training officers received for V-GRIP and the dialogue between officers and the community continue to pay off.
"We are working with the individuals who are borderline-thinking about committing crime. There are times when we know that guns are floating around, and they are no longer. People are telling us constantly that we have shut it down, and we continue to do that," Hughes said.
David Toepfer, a former Trumbull County assistant prosecutor now working as a federal prosecutor in Dettelbach's Youngstown office, "has not forgotten where he came from," Dettelbach said. The number of federal indictments this summer has risen dramatically, Bowers said.
Criminals know that federal charges can carry a much longer prison sentence than state charges, Bowers said.