Cat shelter reopening; charges still possible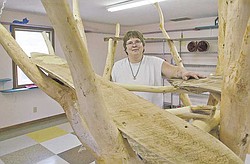 Photo
Kimm Koocher, owner of the Cat Ladies Society, stands behind a climbing tree in the society's empty new shelter at 2217 Mahoning Ave., where humane agents seized all 90 cats under a search warrant in a Wednesday raid.
By Elise Franco
By Elise Franco
Youngstown
Cat Ladies Society employees say they've been cleared to reopen at their new facility, but the city's prosecutor said formal charges still are a possibility.
Kimm Koocher, Cat Ladies Society owner, said she met Thursday with her attorney Damian Billak, who told her the shelter was cleared of any wrongdoing and is free to reopen and begin adopting out cats at its new facility, 2217 Mahoning Ave.
But city Prosecutor Jay Macejko said the case still is under review, and no decisions have been finalized.
"Nothing like that was reached in terms of an agreement," he said. "They asked if that was a possibility, and that was the extent of the conversation."
Billak didn't return calls to comment Thursday afternoon.
Joe Borosky, Animal Charity humane agent, said he still is working with Macejko on the case.
"I was just in the prosecutor's office [Thursday], and he assured me that's not the case," Borosky said. "[Macejko] wants to look over the evidence to make sure everything is in order."
Macejko said he's reviewed only about one-third of the case material from the 83 cats seized Sept. 15 by Animal Charity, so it's still too early to make a decision.
"I haven't decided if we are or are not going to file charges," he said. "The case has been submitted to me for review. ... Right now, all options are on the table."
Animal Charity removed more than 80 cats from the former Mahoning Avenue facility Sept. 15 after a three-month investigation into reports of sick cats and strong odors inside the shelter.
Jeff Bailey, CLS employee, said shelter representatives will have a news conference at 3 p.m. today at Petco in Boardman to discuss the fate of Cat Ladies Society, as well as a monthly adopt-a-thon at the store.
He said they've been given the go-ahead to participate in an adopt-a-thon there Saturday and Sunday and will offer for adoption about eight cats that previously were in foster care.
Borosky said only 29 of the 83 cats brought to Animal Charity were saved from euthanization due to severe health problems. He said they had upper- respiratory infections, fungus, open wounds, uncontrollable diarrhea, ear mites and external bleeding.
"It wasn't just one thing. It was their overall health," he said. "Now what we're finding out is the 29 that we still have are coming down with the same things."
Borosky said the intentions of CLS was never in question, but they took on more than they could handle.
"Their intentions were good; I never questioned that, but I think they got in over their heads," he said. "That's what happens when you take in more than you can facilitate."
Macejko said the case is worth taking time on.
"It's still too early, so I don't want to commit," he said. "There's definitely something there. ... The question is whether it rises to level of animal cruelty."