Martin recalled as 'focused,' dedicated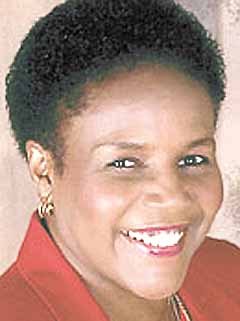 Photo
Realtor Killed

Gallery
By John W. Goodwin Jr.
YOUNGSTOWN
Those close to an area real-estate agent who was killed while working on the East Side say her warm personality and dedication to life's goals overshadow the events that took her life.
Vivian Martin, 67, the owner of Essence Realty, was discovered in a burning home at 3660 Nelson Ave. on the city's East Side on Monday afternoon. Martin lived on Ron Lane.
Police say robbery was a likely motive in Martin's murder.
Shirley Poindexter, an employee at Essence Realty, has known Martin for more than 25 years. She said Martin encouraged her to seek a master's degree after she completed her bachelor's degree and told Martin about the achievement. The two women ultimately went on to graduate together and completed a master's program.
"She was my close friend. She mentored me as a real- estate agent. We finished our master's together, and she encouraged me to do that," said Poindexter. "She was very focused and driven, and anyone associated with her, she expected you to have goals and focus."
Martin also had fought colon cancer twice in recent years, but Poindexter said fighting the illness did not put a damper on Martin's natural drive. She said Martin often would set up a laptop and work from her bed, saying the work kept her focused.
Arlette Gatewood, who also has known Martin for more than 25 years, remembers her to be a straightforward person who was strong in her religious faith. He said Martin had been unable to attend meetings for the A. Philip Randolph Institute, of which she was a member, because of her fight with cancer, but had just returned and was looking forward to continued participation.
"She was always a very outgoing, straightforward person, not hard to get along with, but very straightforward in her opinions," he said. "We will strongly miss her. What has happened to her was very tragic. It is heart-wrenching knowing the type of person she was and the things she has gone through."
Rose Carter met Martin in the first grade at Madison Elementary School and maintained a lifelong friendship with her. Carter remembers the hard work Martin put into her education and the same level of dedication and hard work she put into growing her real-estate company.
Carter said there is nothing bad to be said about Martin. Her loss will be felt by the many people she helped find housing and those she touched in the community, Carter said.
"Whenever we were together, she introduced me as her friend from first grade, and I won't have that anymore, but I will have the memories of a truly good friend who would always tell me if I was wrong," she said. "There just is no one like Vivian."