Authorities urge safety precautions
Realtor Safety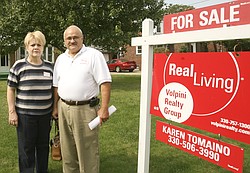 Video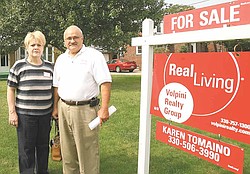 The Vindicator ( Youngstown)

Photo
Karen and John Tomaino, real-estate agents with Real Living Volpini Realty Group, talk about safety precautions they and other agents use when showing homes. John Tomaino, a former law-enforcement officer, said he hopes the recent violent crimes against local agents encourage agencies to review their safety procedures.
SAFETY TIPS
The homicide investigation into the death of Realtor Vivian Martin has many local police departments
talking about how real-estate agents can stay safe in the field.
Always keep your identification and a cell phone handy, with emergency contacts and 911 programmed into your speed dial.
Create a special code word that signals distress to a co-worker that can be used in conversation but will alert them to call police.
Leave items such as a purse or wallet in the car or at the office.
Create an itinerary and stick to it.
Make sure another person knows where you are, and if possible, have another agent show the house with you.
Meet prospective home buyers in the office setting first to get a name, address and phone number.
Be suspicious of a client who wants to see a particular property immediately, claims to have a large sum of money to invest or claims to be a celebrity.
Familiarize yourself with the area so you know the fastest way to leave.
Don't wear expensive jewelry while showing houses.
Don't advertise a property as vacant and insist that the electricity be kept on at vacant properties.
Maintain a file at your agency that includes vehicle information and personal information for each agent in the case that an agent goes missing.
Source: Austintown, Hubbard and Poland police departments and the Youngstown Columbiana Association of Realtors
By GRACE WYLER
and Elise Franco
The death of Realtor Vivian D. Martin and other attacks have area real-estate agencies and police focusing on how to keep agents safe on the job.
Crimes against real-estate professionals have risen in the past decade, according to surveys conducted by the National Association of Realtors and a number of its member associations. In a 2004 Ohio Association of Realtors survey, 87 percent of Ohio agents said they were concerned with safety.
A real-estate agent, like anyone whose job depends on daily contact with strangers, is always a potential target for violent crimes, said John Tomaino, a former law-enforcement officer and a Realtor with Real Living.
"This is an unfortunate, terrible wake-up call," Tomaino said. "It kind of creeped up on us — you just don't know when or why something like this is going to happen."
Tomaino warned real-estate agents to be diligent about taking common-sense safety precautions, particularly when dealing with new clients or vacant homes.
"The majority of people out there just want to buy a house, but there is that criminal element," he said.
Real-estate agents should always know whether they would choose "fight or flight" in response to a physical attack, he said.
Tomaino, who carries a gun most of the time, said that tactics such as verbal assertiveness, distraction and physical resistance can be effective responses to danger. He added that carrying a firearm is not always the best option and suggested agents consider nonlethal weapons such as pepper spray.
"You have to prepare your mind," Tomaino said. "Make plans for what you are going to do."
It's important that agents are aware of their surroundings and get a feel for the home they're showing before the buyer arrives, said Austintown Police Chief Bob Gavalier.
"Always try to keep a distance between yourself and the other person, and if you're showing an enclosed room, stay as close to the door as possible so if you have to exit you can do so quickly," Gavalier said.
Brian Goodin, Poland Township police chief, said real-estate agents usually have nice things on them, such as cars, purses and credit cards, making them targets for robbers.
Gavalier suggested leaving those valuable items in the car or at the office and carrying only a cell phone and identification.
"If the offender doesn't see opportunity to make a gain, there's a better chance nothing will happen," he said.
Both police chiefs said it's important for agents to inform a co-worker where they are going and with whom they will be.
Gavalier said township trustees are asking to find a way for the police department to work with real-estate agents to ensure safety during open houses and house showings.
Detective James Taafe of the Hubbard Police Department said people should not assume "everyone is like them" because some people mean others harm.
"Listen to your instincts. ... If something inside is telling you to get out of there ... do it," he said.
He said it's a good idea for agents to have prospective homebuyers in an office setting first.
"It's not unreasonable to ask for identification," Taafe said.
In fact, Gina Shutrump, office manager and broker at Howard Hanna in Canfield, said her office is implementing new procedures as a result of the attacks.
Now, anyone wishing to see property will have to show a photo ID and meet with a real-estate agent in the office before seeing property.
Shutrump said they also have considered starting a self-defense course for employees.
"This is a pretty hazardous business when you think about it." Shutrump said.
Kathy Miller, president of Right Place Realty, said most of the homes and properties she shows are unsafe.
"When I go to show [homes], 80 percent of them are going to be vacant," she said. "One percent are going to have utilities on, and the rest won't."
Miller said there has been an advocate for consumers for years, but there needs to be one for the real-estate agent.
Jerome Williams, owner and broker at Y-Town Realty Inc., was friends with Martin and once shared office space with her. He said he found it odd that Martin would have entered a vacant home without a partner.
"One thing she always practiced was never going into an abandoned house alone," Williams said.
Williams said he plans to start an annual training course for his employees so they don't soon forget the safety issues involved in the business.
"I just don't want her death to be in vain," Williams said. "We can't bring her back, but we need to learn from this."
Reporters Ashley Luthern, Linda Linonis and Kristine Gill contributed to this story.