Police reportedly have 3 suspects in fatal East Side fire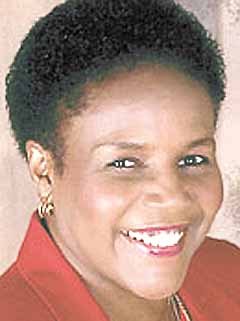 Photo
Staff report
YOUNGSTOWN
Police have three suspects in the death of a real-estate agent Monday, The Vindicator's broadcast partner, WFMJ, reported Tuesday night.
Vivian Martin, 67, the owner of Essence Realty, was discovered in a burning home at 3660 Nelson Ave. on the city's East Side at 2:40 p.m. Martin lived on Ron Lane.
Youngstown police are treating her death as a homicide. They would not release more information Tuesday night.
The Mahoning County Coroner's office identified Martin on Tuesday.
The coroner's office said a forensic odontologist made the identification. The coroner did not release a cause of death.
WFMJ also reported that the Portage County sheriff is investigating the murder of Andrew Vonstein, 51, a prominent real-estate agent in Ravenna.
His family reported him missing. Police found his body in a vacant building Tuesday morning.
Martin had a beautiful, smiling face, recalled an official at Youngstown State University.
In an e-mail expressing condolences on Martin's death, Yulanda McCarty-Harris, director of YSU's Office of Equal Opportunity and Diversity, wrote, "This is so tragic. Vivian Martin owns Essence Realty, and was our [Realtor] when we moved here. I can still see her smiling face."
The condolences were on behalf of Donna James of Campbell, Martin's daughter, who works at YSU and also is marketing specialist for Essence Realty.
Former Youngstown City Councilman Artis Gillam knew Martin since attending school with her at Madison Elementary School.
"She was feisty as a little girl and feisty as a grown-up," Gillam said.
He said Martin dropped out of high school but went on to earn her undergraduate and master's degree before starting her own business.
He also said Martin had just finished her final chemotherapy treatment, beating colon cancer for a second time.
"This is just heartbreaking to see someone do what she did coming back from cancer to this freak accident," Gillam said.
Martin's late-model Cadillac had been parked outside the house at 3660 Nelson Ave. and is now being held by police for processing.
Police have been unable to find keys for the vehicle and had to call OnStar to open the doors.
Martin was a lifelong Mahoning Valley resident. She had an associate degree from Youngstown State University. She graduated magna cum laude from Wilberforce University with a bachelor's degree in organizational management and earned her master's degree in organizational leadership from Geneva College, Beaver Falls, Pa.
Martin also was an active member of the community, involved in community organizations such as the Youngstown Warren Realtist Association, A. Philip Randolph Institute and Buy Into Youngstown. She was a member of Youngstown Columbiana Association of Realtors.
Firefighters were called to the Nelson Avenue house just after 2:30 p.m. Monday and found it engulfed in flames. A bystander told firefighters someone likely was trapped inside the building.
Firefighters found Martin on the kitchen floor.
Early reports from people living in the area said it sounded as if there was an explosion before the fire. Firefighters, however, have determined the gas supply to the house had been shut off, but the electricity was still on.
City arson investigators and investigators from the Ohio Fire Marshal's office are trying to determine the cause.
The home had been listed for sale with Essence Realty.
Last week, a real-estate agent was kidnapped and robbed in Boardman, but released unharmed.
More like this from vindy.com