At last, deed brings stamp of approval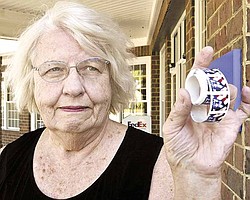 Photo
Susan McAfee of Poland Township shows a roll of stamps she found outside the Poland post office. She returned them Tuesday.
By Ashley Luthern
POLAND
A lost-and-found situation at the post office led township police to the home of a 75-year-old woman Tuesday morning.
On Monday night, Susan McAfee of Forest Hill, found a roll of stamps outside the closed post office.
"In the morning I thought, 'I can't keep them,' but also, 'Somebody's paid for them; why should the post office get them back?'" McAfee said.
She called the post office to say that if anyone came there looking for a lost item, postal employees could give out her phone number.
The problem, however, was that McAfee refused to tell the employee what she had found.
"When the employee said, 'Can you describe it?' she only said, 'It's very valuable,'" said Tad Kelley, acting spokesman for the Postal Service's Northern Ohio District.
Kelley said the post- office supervisor explained that he couldn't give out her phone number because of the high volume of calls the post office gets about lost items.
"And then she told him, 'If nobody calls, then I'm keeping it,'" Kelley said.
The supervisor called Poland Township police, and officers confirmed that a patrolman did go to McAfee's home and she refused to give any information.
McAfee said she was shocked to see an officer on her doorstep.
"I nearly dropped dead. I was hysterical. Nothing like that has happened before," she said. "... This is getting way out of hand."
So McAfee decided to return the roll of stamps to the post office Tuesday afternoon.
"We do need to be cautious about anything of value and the security of the post office itself," Kelley said. "It worked out that the person who did lose the roll got it back."
When individuals find items at the post office, they should notify post-office employees, he added.
"Our employees are going to make sure that it gets back to their hands. We want the rightful customer to have it," he said. "This is just a misunderstanding. The long and short of it is that we do thank that person for finding it."
McAfee said she still feels as though she was "strong-armed" in the whole situation.
"Someone told me that I should have tucked it in my purse and gone on my merry way," she said. "I did the right thing and it ruined my whole day."