Ron Wood debuts art at Butler
Ronnie Wood At the Butler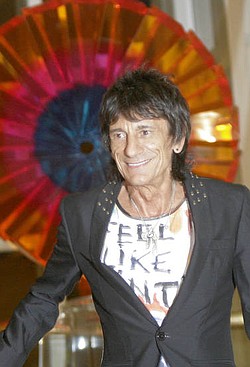 Gallery
Rolling Stones guitarist Ronnie Wood was on hand to open a show of his artwork at the Butler Institute of American Art in Youngstown, OH.
By REBECCA SLOAN
news@vindy.com
YOUNGSTOWN
The Butler Institute of American Art was buzzing with excitement Tuesday as eager crowds waited in the balmy September air for the opening of Ronnie Wood's first American art exhibition.
The Rolling Stones guitarist/artist drew fans from far and wide for his show titled "Ronnie Wood: Paintings, Drawings and Prints," which features 30 paintings, 22 pen-and-pencil drawings and seven mixed-media works.
Lena Natale, a diehard Stones fan, drove four hours from Gettysburg, Pa., to see Wood's artwork.
"I listened to the Stones the whole time I was driving," Natale said before the opening. "I know Ronnie as a musician, not an artist. I can't wait to see the exhibit!"
Tickets to the Tuesday evening premiere cost $200, and the guest list was restricted.
The doors opened at 8 p.m., and the atmosphere was electric when Wood descended the stairs and addressed the crowd of about 300 in the Butler's main gallery.
Wood said he was thrilled to have his "first proper" American exhibition.
"I hope you all enjoy it," he said. "Your museum does it very proud."
Wood added that he was pleased to see his art displayed in a generous space rather than in his crowded studio.
"In my studio the art looks [the size of] postage stamps compared to how it looks here," he said.
As crowds explored the three galleries displaying Wood's work, many expressed awe and admiration over the high caliber of the art.
"I think it's amazing that he is such a talented visual artist as well as such a talented musician," said Chris Chuirazzi of Cortland. "It is fantastic that he has the ability to do both so well."
Chuirazzi and his wife, Mary, both members of the Butler, said their favorite piece is a painting titled "Beggar's Banquet," which is the highlight of the show.
Lou Zona, Butler executive director, praised the painting for its use of baroque-like light, varied textures and clever placement of elements.
In addition to being awestruck by the artwork, onlookers were dazzled by the British rocker's presence.
Spiky-haired and casually dressed, Wood was laid back and full of smiles as he mingled briefly with fans.
"This is incredible," said Kathy Miller of Boardman. "He is such a talented artist and seems like such a normal, down-to-earth guy. It is incredible to have him here in Youngstown."
Donna Wainio of Youngstown called the exhibit "fantastic for the community."
"It is so thrilling to have his art displayed at The Butler," Wainio said.
Sandy Mitchell, a high school art teacher from Leetonia, plans to bring her students to see the exhibition.
"I love the energy and colors," Mitchell said. "He has a special talent for portraits."
Portraits of Rolling Stones bandmates Mick Jagger, Keith Richards and Charlie Watts dominate the exhibition, which runs until Nov. 21. There also are several portraits of celebrities, including Jack Nicholson and Mohammed Ali.
Although Wood, 63, is best known as a musician, he has been drawing and painting since age 12 and received formal training at Ealing College of Art in London.
Zona said Wood actually thinks of himself as more of a visual artist and wants to be remembered more for his visual art than his music.
"It is difficult to discount his incredible contributions to music, but for this exhibition we focused on Ronnie Wood the artist instead of Ronnie Wood the musician," Zona said.