Mineral Ridge remains unbeaten in volleyball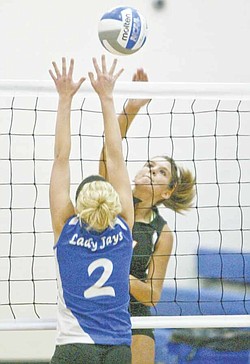 Photo
Mineral Ridge's Paige Rassega spikes the ball as Jackson-Milton's Ashley Staton (2) defends during Monday's match in North Jackson. Mineral Ridge remained unbeaten in 10 matches with a three game victory.
Mineral Ridge remains unbeaten in volleyball
By CHUCK HOUSTEAU
NORTH JACKSON
Fast starts, solid hitting and great teamwork have made the Mineral Ridge High volleyball team Ram tough this season.
After the Rams disposed of rival Jackson-Milton in three games, 25-7, 25-18 and 25-20 Monday night on the road, Mineral Ridge remained undefeated with a perfect 10-0 record.
"We have a really good team," said Mineral Ridge coach Jennifer Staunton. "Sometimes we make some unforced errors like you saw tonight but overall we keep getting better and better.
"We expected to have a good team this year but nobody could foresee not losing a game like we have so far this season."
The Rams do it with four experienced seniors in Paige Rassega, Abby Riffee, Brittney Bevilacqua and Megan Ben.
But the team's best overall player against Jackson-Milton was junior Katie Fife.
Fife, who played strong at the net, had 14 blocks and eight kills.
Ben also had a strong game with a team high 10 kills.
"We had great teamwork and communication tonight," said Ben. "We seem to click pretty well. A lot of us play volleyball year-round and that has helped us on the court so far this season."
The Rams opened all three games of the match with strong starts.
In the first game, Mineral Ridge opened up an 8-0 lead before cruising to a 25-7 win.
"Getting off to fast starts definitely helps us get going and loosens up the girls," Staunton said. "That was key in all three games."
In the second game, the Rams again opened with a 5-0 start and were up 11-4 when Jackson-Milton made a run.
The Jays scored seven straight points which tied the game at 11-11 and that forced Staunton to call a timeout.
Mineral Ridge came out of the break with a 7-0 run fueled by a couple of service aces by Fife and never looked back.
In the third game, the young Jackson-Milton team hung tough with the Rams before falling by five points.
With only one senior, Maddie Griffiths, the Jays seemed to gain confidence in the second and third games and made Mineral Ridge work for the win.
"We're a little inconsistent at times," said Jackson-Milton coach Sue Prozy. "When you are playing a better time like Mineral Ridge [inconsistency] will bite you."
The Jays (5-6) were led by freshman Erica Hughes who had 11 kills, nine points and four aces. Ashley Staton added 12 points while Rachael Obradovich had 14 assists.
Mineral Ridge's Lea Whitmer was the Rams' leading scorer with 13 points. The junior also had eight assists and five aces.
Riffee led all players with an impressive 26 digs.
"We have a lot of fun out on the court," Ben said. "Winning is always fun."