AG, union green light Forum sale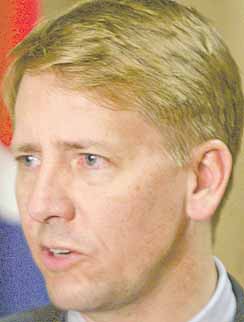 Photo
Former Ohio Attorney General Richard Cordray
By GRACE WYLER and ASHLEY LUTHERN
YOUNGSTOWN
The state attorney general has given the green light to the sale of Forum Health to Tennessee-based Community Health Systems — the same day that a nurses' union approved a contract with CHS — effectively sealing the fate of the embattled hospital system.
Ohio Attorney General Richard Cordray announced Monday that he has no objection to CHS' $120 million purchase of Forum, a decision that signals the possible end to an 18-month bankruptcy saga.
The results of Cordray's review virtually ensure CHS' acquisition of the Forum system. The purchase, approved by U.S. Bankruptcy Judge Kay Woods, is expected to be finalized Oct. 1.
Cordray, whose office spent more than a month reviewing CHS' bid, said he believes CHS has made "a strong commitment to the health system," citing the company's pledge to invest at least $80 million in Forum's three major hospitals — Northside Medical Center in Youngstown, Trumbull Memorial Hospital in Warren and Hillside Rehabilitation Hospital — over the next five years.
"To this point, they [CHS] have given us every indication that this will be a successful transaction," Cordray said. "It is my conclusion that this will be in the best interest of protecting the charitable purpose of Forum Health."
Although he conceded in his review that the "charitable mission of the nonprofit health-care entity is necessarily impacted" by its sale to a for-profit company, Cordray noted that Forum's three hospitals also will remain Medicare and Medicaid providers for at least five years.
The company's commitment to a charity-care policy also is "consistent with industry best practices," he said.
He added that the CHS purchase price will be sufficient to cover Forum's debts, ensuring the safety of the charitable foundations of Forum's Western Reserve Care System and Trumbull Memorial. The foundations' assets were pledged as collateral for Forum's loans and, if needed, could have been used to pay creditors.
The company is pleased the attorney general's review is complete and is looking forward to completing its acquisition, said CHS spokeswoman Tomi Galin.
"We are excited about the opportunity to work with the medical staffs and employees of these hospitals as they deliver on their commitment to provide high-quality care for their communities," she said.
Acknowledging the objections of Forum's three unions — which have expressed concern that CHS will value profits over patient care — Cordray said he would seek legal redress if the company should fail to live up to its commitments.
"If we find that any of these representations were fraudulently or falsely made, we will take action," he said. "We will hold them responsible."
He added that he is "cautiously optimistic" that Forum's unions will reach an agreement with CHS.
Members of one of those unions, the Ohio Nurses Association, voted to ratify a contract with CHS late Monday. ONA represents registered nurses at Forum's Northside Medical Center in Youngstown and Hillside Rehabilitation Hospital in Howland.
The new contract does contain some concessionary items, said Eric Williams, president of Northside's Youngstown General Duty Nurses Association, which represents 435 nurses.
"We've met our commitment with the community and CHS in ratifying a new agreement," Williams said.
"We hope to be able to continue to operate with the same high standards that we are known for locally and nationally. We intend to hold parties accountable to achieving them," he added.
The new contract between ONA and CHS expires next July 19, which is when its contract with Forum was set to expire.
CHS is now waiting to conclude its agreements with the other two unions representing Forum's 3,500-4,000 workers.
Members of the Service Employees International Union District 1199, which represents service workers at Northside and Trumbull Memorial, began voting Monday. The union will release results of the vote Wednesday, said spokesman Anthony Caldwell.
The American Federation of State, County and Municipal Employees, which represent nurses and workers at Trumbull Memorial and Hillside, has not yet reached an agreement with CHS. Negotiations are scheduled to continue Wednesday.
Officials from all three of Forum's unions have expressed concerns over a history of labor disputes at CHS hospitals, including labor contract violations at facilities in Pennsylvania, Washington, New Mexico and California.
Just last week, the National Labor Relations Board issued a complaint against the company in response to unfair labor practice charge by the nurses' union at the Wyoming Valley Health Care System, which was purchased by CHS in 2009.
The NLRB charges that the company is illegally refusing to turn over information critical to the bargaining process.