---
Tuesday, September 21, 2010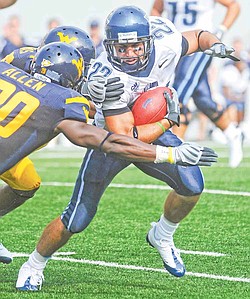 ASSOCIATED PRESS

Photo
Villanova's Angelo Babbaro (22) looks to run by West Virginia's Franchot Allen (20) during the second quarter of a football game Saturday, Aug. 30, 2008 in Morgantown, W.Va.
By JOE SCALZO
It didn't hit him when Villanova beat Montana last December in the FCS national championship game.
It didn't hit him when he visited the White House with the team last week.
And it didn't hit him when he shook Barack Obama's hand.
"I don't think it will hit me for a couple years, how big it really was," said Wildcats senior Angelo Babbaro, a Canfield High graduate. "I still can't believe we won a national championship."
Babbaro, a former Mahoning County player of the year, chose the Wildcats over YSU five years ago — Villanova coach Andy Talley, who is 0-3 against the Penguins in the playoffs, joked that it made him "sick" to drive through Youngstown to get to Babbaro's house — and has emerged as a multi-purpose threat for the defending champs.
In addition to playing on all four special teams units, Babbaro has started all three games at running back for the Wildcats (2-1).
But he also lines up at times in the slot and even at quarterback in the spread formation offense.
"They refer to me as a hybrid-type guy, which makes it fun," said Babbaro, a former all-conference kick returner. "I'm not just standing in the backfield getting handed the ball.
"I definitely don't get the numbers I used to in high school but we win and I get into the end zone, so I can't complain."
Babbaro has rushed 24 times for 128 yards and a touchdown and needs 45 to reach 1,000 for his career.
He's also caught seven passes for 84 yards and a touchdown for the Wildcats, who are ranked second behind Appalachian State nationally and whose only loss was to Temple of the Mid-American Conference, 31-24.
"I feel like the old man here," he said, laughing. "Everyone looks at me like I'm a grandfather and I feel like I've been here for a decade.
"It took me a little bit of time to get adjusted here but I know I made the right decision coming here. I've fell in love with the place."
Babbaro (5-foot-9, 195 pounds), who graduated in the spring with a 3.6 grade point average in economics, was named the school's male student-athlete of the year in May.
If all goes to plan, he'll add a master's degree in human resources development in July.
But he's willing to put his academic career on hold in early 2011 to audition for NFL scouts.
Although he doesn't have ideal NFL size, he's hoping to use his speed and special teams background to forge a role somewhere.
"It's kind of a one shot deal for me," said Babbaro. "I've devoted so much time to football, if I didn't try, I'd regret it when I was sitting back at 30.
"I've been playing the underdog role pretty much my whole life. Now I kind of enjoy it. It's kind of cool to prove everyone wrong."
If football doesn't work out, Babbaro isn't sure what he'll pursue, although it's likely he'll stay in the Philadelphia area for a few years. Ultimately, though, he'd like to return to the Mahoning Valley, where his parents still live.
Babbaro helped Canfield to the Division II state championship game in 2005 and the Cardinals were leading Toledo Central Catholic when he left the game with a knee injury. Canfield ultimately lost 31-29.
When asked if he still thinks about that game, he said, "Every now and then. When we won the national championship game, everyone asked me if it felt better than a state championship and I said, 'Yeah, this is bigger.'
"But that state championship game still haunts me."