Austintown school up for sale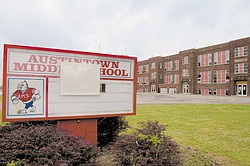 Photo
The old Austintown Middle School on Mahoning Avenue
AUSTINTOWN
The old Austintown Middle School is up for public sale after Monday's auction failed to garner a bid.
"I'm not really surprised," said Barb Kliner, who ran the auction. "I didn't even expect anyone to show up."
Now Kliner said the district can find other interested parties to purchase the building and grounds at 5800 Mahoning Ave.
Parties from Northeast Micro Association and This Land is My Land Ltd. attended the auction as potential bidders but did not bid.
"Talks will continue with those parties," Kliner said.
This Land is My Land Ltd. was the company that backed out of a sale five years ago citing what it called a "pattern of nondisclosure" regarding underground fuel-storage tanks that may have contaminated the soil there. The district has since had drilling and testing of the soil conducted and has been told by the Ohio Environmental Protection Agency that no further action is required.
Questions of the building's condition arose during the meeting, but Mal Culp, supervisor of facilities and operations for the district, said there have been no roof collapses or major structural damage since the building was vacated.
"The structure is pretty well contained, surprisingly," Culp said.
Along with the building, the property includes the now empty bus garage, athletic fields and bleachers. The property will be sold "as is" on a little more than 15 acres.
Superintendent Vince Colaluca said anyone interested in buying the property should contact Culp. He can be reached by phone at 330-797-3900, ext. 2110.
More like this from vindy.com