Greatest Golfer Senior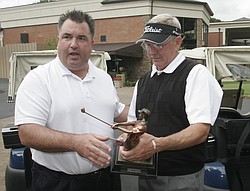 Gallery
Greatest Golfer Senior and Super Senior winners.
Greatest Golfer: Sudden Death Playoff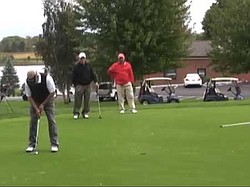 Video
On Friday, Sept. 17, the Senior Division of the Greatest Golfer of The Valley Tournament played round three at Lake Club. After three rounds, Kurt Beler and Bob Leonard found themselves in a tie for the title of Greatest Golfer of The Valley.
18 Greatest Holes Week 17 | Lake Club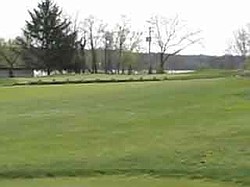 Video
By Pete Mollica
POLAND
Older was certainly better, at least for Warren's Ed Antonelli.
The 72-year-old Antonelli, a member at Avalon Lakes Golf and Country Club, led from start to finish in the 54-hole Super Seniors Division of the Greatest Golfer of the Valley Tournament, Friday at the The Lake Club.
Antonelli's 233 total was the best score in either the Seniors Division (60-69) or the Super Seniors (70-over) and he was the only golfer in those two divisions to shoot three rounds in the 70s. He had rounds of 77 (Mill Creek), 78 (Trumbull Country Club and finished with another 78 on Friday and won the title by six strokes.
The Seniors Division proved to be a much closer battle. In fact it went to a sudden-death playoff, where Bob Leonard of Kennsington Golf Club birdied the fourth sudden-death hole to defeat Kurt Beler of Diamond Back Golf Course.
The tournament continues today with the final 18 holes scheduled for the Ladies Division, Open Division and the two handicap divisions. First tee time is at 8:40 a.m. with the Ladies opening the play.
Antonelli said he was pretty exhausted following the three rounds of competition, but he never had more fun in his life.
"This was such a great event and I really enjoyed taking part in it," Antonelli said. "I got to play three great golf courses and it was so much fun playing with a lot of great golfers here today.
"This is such a beautiful golf course and it was in great condition, but I'll tell you the truth, I'm really tired, but I played very well all three rounds," he added. "I really haven't been playing that well this year and haven't put three rounds together like I did here. I guess I'm getting older and where there was a time that I would make 15 or 16 pars in a round, it's now down to seven or eight."
Antonelli won over Ray Beach of Mill Creek, who shot 79 in the final round and finished at 239 for the tournament. Jerry Rehak of Mill Creek was third at 244 and George Repasky of Mill Creek was fourth at 254. Antonelli had nine hole rounds of 40 and 38 for his total.
Leonard, who shot 76 in Friday's final round, had trailed leader Beler by one shot going into the final round. Beach shot 77 and that forced the sudden-death playoff.
The pair both made pars on the first three playoff holes, but when they returned to The Lake Club's No. 1 hole, a 310 yards, par 4, Leonard hit his second shot to within 2 feet of the hole. Beler left his 12 foot birdie putt inches short of going in and Leonard then drained his putt for the win.
"I really enjoyed playing in this event, it is so great for the Valley," Leonard said. "I played with these guys all three rounds and it was so enjoyable."
Leonard and Beler each made one birdie during the 18 holes of regulation. Leonard made his on the 415-yard No. 2 hole and Beler birdied the par-5 sixth hole which measured 502 yards.
Leonard shot and even-par 35 over the front nine holes and 41 on the back side, while Beler had rounds of 36 and 41.
"I'm really happy for Bob," said Beler. "We played together all three rounds and it has really been enjoyable. This is a great event and I can't wait for next year."
Today's action begins with the Ladies Division where Joan Ash of Mill Creek holds a four-shot lead over Trumbull Country Club's Sally Taylor.
Following the Ladies will be the 13-over Handicap Division where The Lake Club's Tom Onesti has a one-shot lead over Chuck Petrosky of Mill Creek.
Dr. James Lapolla of Trumbull Country Club holds a three-shot lead over Chad Akins of Mill Creek in the 6-12 Handicap Division, while in the Open Division Tippecanoe Country Club's Dick Marlowe leads Mike Porter, also of Tippecanoe, by four shots.
The 13-over division will begin teeing off at 8:50 a.m., while the 6-12 division's first tee time is 9:40 with the Open Division getting underway at 10:18.
The tournament, sponsored by The Vindicator and Farmers National Bank, is open to the public. Spectators are welcome.