Cat-shelter volunteer defends facility's efforts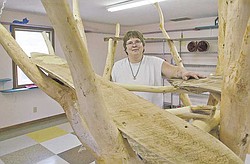 Photo
Kimm Koocher, owner of the Cat Ladies Society, stands behind a climbing tree in the society's empty new shelter at 2217 Mahoning Ave., where humane agents seized all 90 cats under a search warrant in a Wednesday raid.
By Peter Milliken
By PETER H. MILLIKEN
YOUNGSTOWN
The controversy over Wednesday's raid by humane agents at the Cat Ladies Society boiled over into Thursday's meeting of the Mahoning County commissioners.
Dennis Roller of Liberty, a volunteer at the West Side cat- rescue shelter, said the shelter has a new, clean and spacious facility as well as a new ventilation system at 2217 Mahoning Ave., where the raid occurred.
In support of his assertion, Roller displayed photos he had taken Tuesday of the new shelter, showing its feline occupants. The cats there get veterinary care from Dr. Daniel Ebert, a Youngstown veterinarian, Roller said.
The no-kill shelter moved 10 days ago from its old location two blocks away to the new facility, where it was to have an open house from 3 to 7 p.m. today and noon to 6 p.m. Saturday. The move tripled the agency's available space, Roller said.
Humane agents from Animal Charity removed all 90 cats from the shelter, mixing healthy and sick cats, four to a carrier, Roller said.
The humane agents inspected the old shelter in June but left without issuing any citations, Roller said.
"The old facility did have a lot of problems," Roller acknowledged, adding that the old shelter was crowded. "They corrected 95 percent of the problems when they moved to the new facility," he said.
The agents arrived Wednesday at the new location without a search warrant, left, and later returned with one signed by a magistrate, Roller said.
City Councilwoman Carol Rimedio-Righetti, D-4th, the Democratic candidate for county commissioner on the Nov. 2 ballot, said the shelter is in her ward and described it as a clean facility.
"When you rescue animals, and when you do what they do, you don't get the ones that are in perfect health all the time," said Louis Wolk, a Youngstown radio talk-show host whose on-air name is Louie b Free.
"You get the ones that other people abandoned, dumped and abused," he said after interviewing society volunteers on his show Thursday.
Nikole Baringer, chief executive officer of Animal Charity, is scheduled on his show today, which broadcasts from 11 a.m. to 1 p.m. on WGFT 1330 AM radio and is live-streamed on Vindy.com.
"When you don't kill them, you take everything," including a three-legged cat the shelter placed in a new home last week, Roller said.
Baringer said her agents discovered sick cats and strong odors in the June inspection. Since then, Animal Charity has received numerous e-mailed complaints about the West Side shelter, she said.
In Wednesday's raid, agents found sick cats with healthy ones, and sick cats that weren't being treated for their illnesses, Baringer said.
As of Thursday afternoon, no criminal charges had been filed and no inventory of what was seized under the search warrant had been filed in Youngstown Municipal Court.
Also during their Thursday meeting, the commissioners:
Approved spending $217,333 in state funds to buy security cameras from Johnson Controls Inc. and install them in the juvenile court's detention facility and probation department and at the Mahoning County High School, a school for troubled youths located in the former Sheridan Elementary school on Youngstown's South Side.
Entered into a five-year lease-purchase agreement with Jack Doheny Service of Northville, Mich., for a street sweeper for the county engineer's office at $38,454 per year.