Sharon mourns death of magnate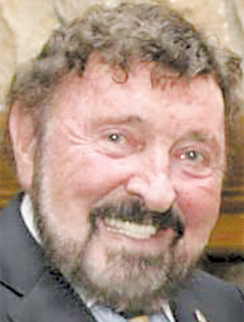 Photo
JAMES E. WINNER JR., 81
By Jeanne Starmack
SHARON, PA.
Employees and friends of Sharon businessman and philanthropist James E. Winner Jr. said they were shocked Wednesday to learn of his death.
Winner died at 4:40 p.m. Tuesday in a car accident in Clarion County, Pa.
Winner's address on the Pennsylvania State Police crash report is Hollywood Beach, Fla., but he and his wife, Donna, had a home in Clarion County in Cook Forest. He was driving there to meet his wife when the accident happened, his pastor and family friend, the Rev. Larry Haynes, confirmed.
Winner, 81, was driving on Miola Road in Highland Township when his Lexus RX 350 crossed the center line "for unknown reasons" and struck a Chevrolet Blazer, state police reported. He and two men in the Blazer, driver Bobby Jarrett, 82, of Tionesta, Pa., and Raymond Fair, 76, of Tylersburg, Pa., were all dead at the scene, the report says.
Family and representatives at Winner International's offices on State Street above The Winner department store would not talk about Winner on Wednesday, saying they wanted privacy.
"The Winner family, employees and friends deeply appreciate the outpouring of support and condolences that so many have offered," the company said in a short, prepared statement.
"It is a very difficult time for us," the statement continues.
Winner was born in Transfer, Pa., and grew up working on his family's farm there.
In the 1980s, he was the inventor and marketer of The Club vehicle anti-theft device. Winner International sold more than 10 million Clubs, and Winner had several other businesses in Sharon and elsewhere in Mercer County.
The company billed The Winner store as "the world's largest off-price fashion store."
Other businesses include Donna's Diner next to the store, the Buhl Mansion Guest House, Gallery & Spa on State Street, the Whitla Winner Art Gallery & Guest House, Flamingo Rose Gift Shop & Tea House, and The Winner Collectibles.
The huge, sandstone Buhl Mansion, once the home of the late industrialist and philanthropist Frank H. Buhl, was built more than 100 years ago but had fallen into a state of disrepair.
The Winners bought it in 1997 and refurbished it, restoring the first floor and converting the two upper floors into a 10-room bed-and-breakfast.
"I think it was going to be me or the wrecking ball," Winner told the Vindicator in 2002.
The couple also own Tara — A Country Inn, a 27-room luxury inn in Clark, Pa. They bought and restored the 1854 mansion, opening it to the public in 1986. It is also one of the couple's residences.
Winner was the financial backer for the Vocal Group Hall of Fame on East State Street, though he was no longer involved with it.
"Everything we've done in Sharon is strictly, hopefully, to revive downtown Sharon," Winner told the Vindicator in 2002.
None of the shops and downtown operations is meant to be profitable, he added — their purpose is to attract people. "We only hope they can pay for themselves," he said.
Winner was always like that, said the Rev. Mr. Haynes, describing a "larger-than-life" man who constantly tried to find ways to better the community and bring jobs to it.
He owned Winner Steel, which he eventually sold. He also was developing the former Westinghouse Electric Corp. plant on Sharpsville Avenue in Sharon into an industrial park.
Mr. Haynes, pastor of Grace Chapel Community Church in Hermitage, said he also knew Winner through their work together in the Shenango Valley Foundation. Mr. Haynes is executive director, and Winner was president of the board 13 years ago when he was hired, he said.
"He had this energy about him," Mr. Haynes remembered. "He had faith he could do great things and the community could do great things."
"He was intelligent and well-read, not a pretentious man," Mr. Haynes said.
Employees at The Winner were subdued Wednesday morning, with several saying they knew him as a "wonderful" and a "very nice" man.
"It's sad. He's done so much for so many people," said Jeanne O'Leary of New Castle, a greeter at the store who has worked there for six years.
Funeral arrangements were not final Wednesday.
More like this from vindy.com