Greatest Golfer of the Valley tourney reaches final round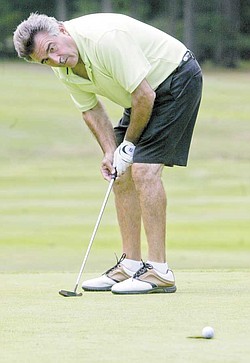 Photo
Tom Onesti watches a putt lip the cup on No. 18 at Greatest Golfer of the Valley Tourney last Saturday at Mill Creek. Onesti leads the 13-over Handicap Division heading into this weekend's finals.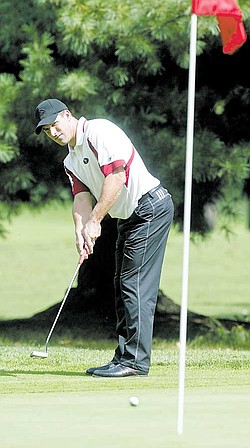 Photo
Mike Porter watches his putt at Trumbull Country Club as part of the Greatest Golfer of the Valley tournament on Sunday. Porter is in second place in the Open Division heading into Saturday's finals at The Lake Club.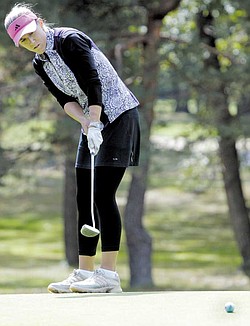 Photo
Alexandra Casi makes a putt at Greatest Golfer Tournament Saturday.
By Pete Mollica
POLAND
The Greatest Golfer of the Valley Tournament is drawing to a close and this weekend 62 players from a field of 99 who started the event will be playing their final 18 holes at The Lake Club.
Following a grueling 36 holes of competition last weekend at Mill Creek's North Course and Trumbull Country Club, the survivors will get underway on Friday morning with the Seniors and Super Seniors divisions taking part.
On Saturday morning the Ladies Division, Open Division, along with the two handicap divisions will conduct their final rounds. The championship trophies will all be awarded immediately following play on both days.
Dick Marlowe, a member of Tippecanoe Country Club, holds a four-shot lead going into the final round of the Open Division. Marlowe shot 73-71 last weekend for a 144 total, 4-over par for the 36 holes. His main competition will come from another Tippecanoe Country Club member in Mike Porter, who after an opening round 70, shot a 78 for a 148 total.
The action both days at The Lake Club will begin at 9 a.m. On Friday the four Senior Division players will kick off the action, followed by the eight players in the Super Seniors. On Saturday the four remaining Ladies Division players will open play at 8:40 a.m., followed by the 13-Over Handicap Division (14 players) at 8:50 a.m., the 6-12 Handicap Division (12 players) at 9:40 and then the Open Division, with 20 players remaining, will tee off beginning at 10:18 a.m.
Marlowe has dominated the front nines of both opening rounds, shooting a 1-under 34 at Mill Creek and a 2-under 33 at Trumbull. He hasn't had that success on the back nine, shooting 39 and 38.
"Hopefully Saturday I can finish a round," Marlowe said. "I've really enjoyed playing in this event. This is something that the area has needed for a long time."
"It's competition and that's what any good golfer is looking for these days," he added. "I love competition and what else would I be doing on the weekend but sitting in front of the television and watching football. This sure beats that."
Besides Porter, the other contenders in the Open Division include Youngstown Country Club's Josh Zarlenga, who's at 149, while Tamer Win's Tom Kellogg and Olde Dutch Mill's Dan Kinney are another shot back at 150.
Also lingering a few more shots back is Alexandra Casi, the only woman in the Open Division, who shot 80-77 for a 157 total.
Playing against the boys is nothing new for Casi, who was one of the top golfers on the East Palestine High's boys golf team a few years ago.
"This might be the first time I've played against the men in this type of tournament, but I wanted to play from the back tees since I've qualified for the USGA Mid-Amateur Tournament later this month and I felt the distance from the back tees would help me in that event," said Casi.
How did it work out?
"Well, I found myself hitting a lot of 5-woods into the greens, but hopefully that will help when I've got a wedge in my hand at the Mid-Am," Casi said.
Casi also will be trying to qualify for the Futures Professional Golf Tour next month in Florida.
"I've picked up a couple of sponsors and they are backing me. I've got three rounds of qualifying next month in Florida to see how I can do," she said.
The hottest golfer who will be on the course Friday is 72-year-old Ed Antonelli of Avalon Lakes, who holds a five-shot lead in the Super Seniors Division (70-over). Antonelli shot 77-78 for a 155 total last weekend, the only golfer among any of the seniors to shoot under 80 both rounds.
"I'm just having so much fun out here," said Antonelli. "This is such a great event, something that has been missing from this area for a long time. I remember years ago watching the old Trumbull County Amateur events."
"I've never played at The Lake Club, but I've heard a lot about it and am looking forward to playing there," he added.
The regular Senior Division (60-69) should be a real battle as only three strokes separate the four surviving players. Kurt Beler of DiamondBack leads at 163, while Jerry Bollinger of Mill Creek and Bob Leonard of Kennsington are at 164 and Skip Gottschalk is at 166.
The Ladies Division appears to be a two-player battle between Mill Creek's Joan Ash, who has a 167 total and has led through both rounds, although Trumbull Country Club's Sally Taylor closed the gap somewhat last Sunday on her home course and is at 171.
Dr. James Lapolla has been the leader from start to finish in the 6-12 Handicap Division. The Trumbull Country Club member shot 78-79 last weekend for a 157 total and a three-shot lead over Chad Akins of Mill Creek, who is at 160.
"The event is really great," Lapolla said. "There has always been a lot of tournaments around for kids, but never for us adults. It's been long overdue.
"I've got to meet a lot of players that I would never have and I played in a great group for two days with guys who were better than me and that really kept me going out there," he added. "I've had so much fun and I just can't wait for Saturday and the next round."
The leader of the 13-over Handicap Division Tom Onesti, just might have a slight advantage in Saturday's final round since he'll be playing at his home course, The Lake Club.
But Onesti, who's two day total was 177, had only a one shot lead over Mill Creek's Chuck Petoskey (178) and two shots over Bob Rule of Squaw Creek (179).
---
Here are the tee times for the finals of the Greatest Golfer of the Valley tournament to be played at The Lake Club in Poland. Names are followed by home course, first- and second-round scores, and totals after two rounds:
FRIDAY SENIORS
9:00 — Kurt Beler, Diamondback, 81-82-163
9:00 — Jerry Bollinger, Mill Creek, 78-86-164
9:00 — Bob Leonard, Kennsington, 79-85-164
9:00 — Skip Gottschalk, Mahoning C.C., 83-83-166
SUPER SENIORS
9:10 — James Hovell, Mill Creek, 85-88-173
9:10 — Joe Coppola, N/A, 85-90-175
9:10 — Tom Syrianoudis, Pine Lakes, 86-90-176
9:10 — Ed Stahura, Mill Creek, 94-99-193
9:20 — Edward Antonelli, Avalon Lakes, 77-78-155
9:20 — Ray Beach, Mill Creek, 82-78-160
9:20 — Jerry Rehak, Mill Creek, 80-81-161
9:20 — George Repasky, Mill Creek, 84-83-167
SATURDAY LADIES
8:40 — Joan Ash, Mill Creek, 77-90-167
8:40 — Sally Taylor, Trumbull C.C., 83-88-171
8:40 — Pam Holisky, Lake Club, 88-90-178
8:40 — Michelle Caputo, N/A, 85-103-188
THIRD FLIGHT
8:50 — Calvin Sneed, N/A, 92-100-192
8:50 — Jeff DeChellis, Bedford Trails, 93-97-190
9:00 — Dane Stilgenbauer, Mill Creek 92-98-190
9:00 — Max Marcavish, Squaw Creek, 92-97-189
9:00 — Mark Isaacson, Reserve Run, 96-93-189
9:10 — David Campman, Kennsington, 90-98-188
9:10 — Michael Young, Kennsington, 97-90-187
9:10 — Anthony Capogreco, Candywood, 93-92-185
9:20 — Paul Marovich, Tam O'Shanter, 85-98-183
9:20 — Jerry Velasquez , Reserve Run, 88-94-182
9:20 — Ed Kennedy, Lake Club, 87-94-181
9:30 — Rob Rule, Squaw Creek, 88-91-179
9:30 — Chuck Petrosky, Mill Creek, 89-89-178
9:30 — Tom Onesti, Lake Club, 87-90-177
SECOND FLIGHT
9:40 — Donald Sicafuse, Vagabond, 87-92-179
9:40 — John Petro, Copeland Hills, 86-91-177
9:40 — Michael Watson, Mill Creek, 83-93-176
9:50 — Paul Rovnak, Firestone Farms, 89-85-174
9:50 — Josh Foster, East Palestine C.C., 87-87-174
9:50 — Brad Koch, Mill Creek, 86-87-173
10:00 — Jerry Ferrell Sr., Mill Creek, 85-88-173
10:00 — Jerry Ferrell Jr., Mill Creek, 80-88-168
10:00 — John Hazy, Mill Creek, 86-81-167
10:10 — Robert Serich, Pine Lakes, 85-81-166
10:10 — Chad Akins, Mill Creek, 81-79-160
10:10 — James Lapolla, Trumbull C.C., 78-79-157
OPEN DIVISION
10:18 — Lou DeLuca, Mill Creek, 82-77-159
10:18 — Brian Stauffer, N/A, 79-80-159
10:26 — Gordon Price, Flying B, 80-79-159
10:26 — Frank Sybelnik, Jr, Yankee Run, 73-84-157
10:26 — Christopher Economus, Mill Creek, 77-80-157
10:34 — Alexandra Casi, Avalon Lakes, 80-77-157
10:34 — Glenn Milton, Mill Creek, 75-82-157
10:34 — George Allen, Riverview, 78-79-157
10:42 — Ed Seeco, Mill Creek, 76-80-156
10:42 — Greg Cook, Mahoning C.C., 79-77-156
10:42 — Brian Newell, Oak Tree, 75-79-154
10:50 — Don Fleck, Squaw Creek, 73-81-154
10:50 — Bryan Horne, Youngstown C.C., 77-76-153
10:50 — Wes Caudill, Youngstown C.C., 72-81-153
10:58 — Vincenzo Romeo, Avalon Lakes, 76-77-153
10:58 — Thomas Kellogg, Tamer Win, 73-77-150
10:58 — Dan Kinney, Old Dutch, 74-76-150
11:06 — Joshua Zarlenga, Youngstown C.C., 76-73-149
11:06 — Mike Porter, Tippecanoe, 70-78-148
11:06 — Dick Marlowe, Tippecanoe 73-71-144