Cruze craze shifts into gear at Valley lots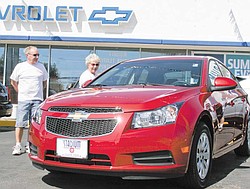 Photo
James and Ruth Cain of Salem check out a 2011 Chevrolet Cruze at Stadium GM Superstore in Salem on Wednesday. James Cain, a GM retiree, said he was impressed with the car.
Chevy Cruze launch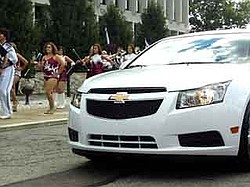 Video
Lordstown Cruze - Kickoff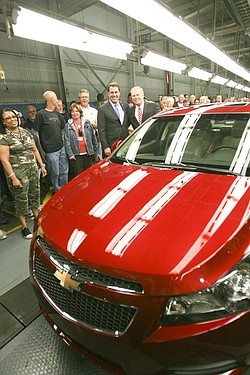 Gallery
By GRACE WYLER
YOUNGSTOWN
After months of anticipation, the wait is finally over for the arrival of the 2011 Chevrolet Cruze.
The new compact car, which is being produced at the General Motors complex in Lordstown, has started to arrive at auto dealerships across the Mahoning Valley.
Local dealers said they have been bombarded by potential car buyers looking to see and drive the Cruze since the first units were delivered Tuesday.
"It has been off-the-hook crazy here," said Mike Hudock, general manager at Stadium GM Superstore in Salem. "We haven't seen this kind of excitement in a new vehicle in a long time."
After just 12 hours on the lot, more than 30 customers had taken the Cruze for a test-drive, Hudock said.
Stadium GM Superstore received two Cruzes this week, one of which already has been sold, he said. The dealership expects about 17 more Cruze units to start arriving in the next few weeks, he added.
Sweeney Chevrolet in Boardman received its first Cruze on Tuesday and is eagerly awaiting the arrival of more, said sales manager Bobby Stackhouse.
"I don't need the first Cruze; I just want 50 of them," Stackhouse said.
The car that arrived this week already has been sold, but its owners are letting the dealership keep it on display for a few days until more cars arrive, he added.
"After all of the hype, people are happy and excited to see it and open it up," Stackhouse said. "We've had lots of people come in and look at it."
Greenwood Chevrolet in Austintown also has received its first two Cruzes, said general manager Mark Fabian, one of which is going to be picked up by its new owners today.
The Cruze passed its dealership inspection with flying colors, Fabian said.
"It drove great; there are no problems at all," he said. "We are anticipating a lot of interest."
He said he expects to have received all of its 26-unit allocation in the next few weeks.
The Lordstown plant has sent off "several hundred" Cruze units to dealerships across the country since the first load left the complex Monday night, said plant spokesman Tom Mock.
Production on the Cruze, which began July 12, is going smoothly, he added.
"People are excited about building the car," Mock said. "The line looks good, the car looks great."
The Cruze will be a harbinger for the Valley's economic turnaround, Mock added.
"This is a great opportunity for our community," he said. "I think the tide is starting to change."