Struthers park gets renewed purpose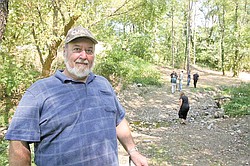 Photo
Bill Burris, whose Creed Street home abuts the Fifth Street Park in Struthers, remembers years ago when the park used to be filled with activity. The city recently cleaned up the park, which had grown over and wasn't being used.
By Jeanne Starmack
STRUTHERS
The Fifth Street Park wasn't much to look at anymore.
Almost all of its 7.2 acres were overgrown with brush and littered with dead wood.
The little creek that flows through it was an exasperation to neighbors because it flooded, said Bill Burris, whose backyard on Creed Street abuts the park.
Kids also congregated there to smoke and drink, said Ed Wildes, the city's safety-service director.
It had been that way for approximately three decades.
Burris could remember, though, when the park was "a big thing in its day," with restrooms, ball courts and swing sets.
Burris, 57, played there as a child.
Now, thanks to a donation from a contractor and some effort from the city, the park is once again a pleasant place.
The city began work in 2009 on culvert restoration, including the one under Fifth Street. The creek no longer floods.
On his own time, Jeff Rudzik of Rudzik Excavating began in July to clear and grade the park. The work was finished in August, and the city spread grass seed throughout the cleared areas, said Mayor Terry Stocker and Tony Fire, who is city council's park-committee chairman.
Standing on a footbridge in the park that was built as an Eagle Scout project, Stocker, Fire and other city administrators surveyed the work one day last week.
The park now is clean, easily accessible and a safe place for residents to walk, Stocker said.
It's accessible enough for a police car and an ambulance, Stocker said. "We can patrol with a cruiser, the bike officer and K-9 patrol," he said.
Police Chief Roy Roddy also said the city will see about getting funds for surveillance and lighting.
D.J. Aldish, a police officer who works in the city schools, said police will patrol the area heavily when schools let out in the afternoons.
Stocker said the city might cut down more trees on a bank at the Fifth Street entrance so kids who use it as a sled-riding hill can have more room.
At the other end of the park, the city has posted waste-collection bags for dog walkers.
Stocker said the city will see what funds are avail-able for equipment such as swing sets, grills and picnic tables.
"Until then, it's a walking park," he added.