Pavlik agrees to fight Edouard in November
Pavlik-Martinez Fight Night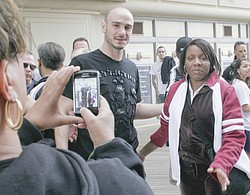 Gallery
By JOE SCALZO
YOUNGSTOWN
In November, Kelly Pavlik will fight on the undercard for the first time in 31/2 years.
His trainer, Jack Loew, doesn't expect it to happen again anytime soon.
"When you go from a $2.5-$3 million payday to the undercard, it wakes you up a little bit," said Loew. "We know we should be the main event [for our fights].
"We'll be the main event at our next fight."
Pavlik (36-2, 32 KOs) will meet Daniel "The Haitian Sensation" Edouard on Nov. 13 at Dallas Cowboys Stadium on the undercard of the Antonio Margarito-Manny Pacquiao fight. Pavlik signed the contract on Monday, Loew said.
"To be the co-feature to Manny Pacquiao, it's not going to be no small stage," said Loew. "We love being the main attraction but we put ourselves in this position.
"It's probably going to make Kelly hungrier."
Pavlik's fans are hoping that last sentence is meant literally. His weight woes may have cost him the middleweight title in April against Sergio Martinez. Forced to cut more than 30 pounds during training camp, Pavlik was dominated in the later rounds by Martinez en route to a unanimous decision loss.
The Nov. 13 bout will be at 164 pounds — halfway between middleweight and super middleweight — and Pavlik weighed 175 pounds on Tuesday, Loew said.
Edouard (23-3-2, 14 KOs) weighed 154 pounds for his last fight, a split decision loss to Alfonso Mosquera.
"He's the perfect opponent," said Loew. "He's a dangerous kid with nothing to lose. He's got a good record, he's active and he'll come to fight."
If Pavlik beats Edouard, Loew said they want to stay at middleweight — "If we can do it the right way," he said — and go after WBA middleweight champion Felix Sturm of Germany.
"We'll go to Germany if we have to," Loew said. "We've already told the guys that.
"As long as they bring some American judges and American TV [HBO], we'll fight him on the moon if we have to."
More like this from vindy.com