VOLLEYBALL: Lakeview gets past Girard in four games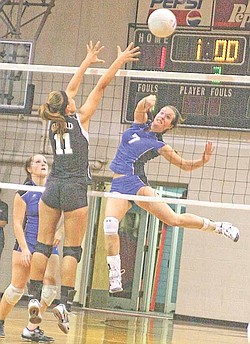 Photo
Elaine Kelley (7) of Lakeview spikes the ball past Lindsey Crown (11) of Girard Tuesday night's All-American Conference volleyball match in Girard.
Lakeview gets past Girard in four games
By JIM FLICK
GIRARD
After winning the first two games, the undefeated Lakeview High volleyball team hung on against a resurgent Girard squad to emerge with a 3-1 victory on Tuesday night.
Lakeview (7-0, 2-0 All-American Conference White Tier), ranked seventh in the state in Division II, won the first four points of the first game of the match on the way to a 25-20 win.
In the second game, the Bulldogs again scored the first points and never gave up the lead, winning 25-22 to take a 2-0 lead.
But after Lakeview tallied the first two points of the third game, Girard (5-2, 2-1) rallied. With Morgan Walters serving, Girard scored nine unanswered points to take a 9-2 lead.
Lakeview closed the gap, pulling within three points at 15-12, but Morgan Walters, Mary Burt, and Bryanna Jay blocked shots down the stretch as Girard won the third game 25-15 to cut Lakeview's lead in the match to 2-1.
The fourth game was a fierce battle from the start, with neither team leading by more than two points. The game was tied at 25, 26 and 27, but with Kelly Musick serving, Lakeview scored the game's final two points to win the game 29-27 and the match 3-1.
"We always play them tough, and they rise to the occasion," said Lakeview coach Scott Taylor of Girard. "It went back and forth.
"We played well, though."
Taylor commended the play of Elaine Kelley, who led the team with 12 kills and seven blocks.
Rebecca Colvin led the Bulldogs with 29 assists, while Kelly Musick was the team leader with 18 digs.
"We're still a bit inconsistent," said Girard coach Phil Walters. "We made a lot of errors in the first two games."
The Indians committed nine service errors in the first two games, he added.
"I knew [the Indians] weren't going to give up," said Walters. "We volleyed well."
Walters added that his team plays a tough schedule, including games against larger schools, which gives them good preparation for tournament play.
Bryanna Jay led Girard with 16 kills and five blocks, while Alex Doran was the team leader with 26 assists. Morgan Walters scored 18 service points and six aces for the Indians, while Mckenzie Patterson was credited with 18 digs.