'Big Uglies' keeping quarterback clean
Butler vs YSU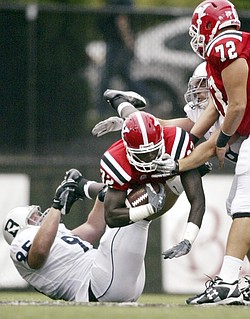 Gallery
YSU defeated Butler 31-7 in Youngstown September 11, 2010.
YSU vs Penn St.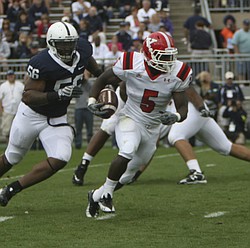 Gallery
Offensive players: Jamaine Cook (5-9, 195, Soph.) running back from Midpark, Ohio; Jordan Thompson (6-1, 220, Fr.) running back from Cincinnati; Adaris Bellamy (5-10, 215, Fr.) running back from Dunedin, Fla.; Torrian Pace (5-10, 230, RFr.) running back from Chantilly, Va.; Allen Jones (5-10, 205, Fr.) running back from Youngstown
Defensive player: Brandian Ross (6-1, 195, Sr.) cornerback from Richmond, Va.
Offensive lineman: Not awarded
Defensive lineman: Luke Matelan (6-3, 240, Sr.) defensive end from Pittsburgh
Scout offensive player of the week: Not awarded
Scout defensive player of the week: Not awarded
Scout special teams player of the week: Matt Romeo (5-9, 155, RFr.) cornerback from Boardman
Hit of the week: Thompson
Player of the game (radio): Head coach Eric Wolford
Leadership award: Matelan
By JOE SCALZO
YOUNGSTOWN
Four of Youngstown State's five starting offensive lineman live together during the season, which could add up to 1,170 pounds of unpleasantness — and not just for opposing defensive linemen.
"No, we're pretty clean," said senior center Justin Rechichar, laughing. "We respect each other. If somebody leaves something out, like [sophomore left tackle] Andrew Radakovich, we'll yell, 'Hey, Radak, you better get out here and clean it.'
"We make sure we keep each other accountable."
The same thing applies on the field, where a big block results in head slapping by teammates and a bad one results in head slapping by the guilty party.
"It makes it real exciting," said Rechichar. "You never want to let down the guy next to you."
Letting down the head coach is a different story. Because Eric Wolford has an offensive line background as both a player (starting four years at Kansas State) and a coach (where he mentored linemen as an assistant for the past 16 years), he's notoriously hard on the Penguins' front five.
For the second straight week, YSU's coaches did not name an offensive lineman of the week. (The award was shared by the team's five running backs.)
Considering the team has given up just one sack in two games (they like to keep teammates clean, too) and cleared the path for 286 yards on the ground in last week's win over Butler, you might start to wonder what they need to do to make Wolford happy.
"They're a great group of guys and they probably watch more film more than anybody," Wolford said. "They know there's a lot of tough love here when it comes to offensive line play. They're in a tough position.
"But they're tough guys. If I didn't think they had a chance to be really good, I probably wouldn't be so hard on them."
Radakovich (eight starts last year) and senior left guard Eric Rodemoyer (eight starts) are the top returnees from last year's line, which struggled at times against the league's better teams. Rechichar (one start at center, three at left guard) and senior right guard Bobby Coates (six starts at right tackle) also got playing time, with sophomore right tackle D.J. Main the lone newcomer.
The same five players have started both games this fall and they've developed good chemistry on and off the field.
"All we talk about is football, that's the truth," said Rechichar, who lives with Rodemoyer, Main and Radakovich. "We go home and talk about plays, all that kind of stuff.
"Just all being on the same page, making sure we're all together and assignment sound, that really helps."
Wolford complained to reporters about the linemen almost daily in the spring, something that has mostly stopped since August. But he wants to see his linemen do a better job executing fundamentals, from lowering their pad level to improving their aiming points.
"Those are the types of things we need to do on a consistent basis if we want to get where we want to go," Wolford said. "[Line] is an area we need to continue to improve on if we want to someday get in the position to challenge the elite teams in the league.
"That's the position where I see a significant difference between where we are and where the league is."