Photo
(10) Paige Baker of Canfield and Desiree Nuss (4) of Lakeview fight for the ball Monday night in Lakeview.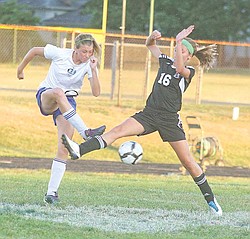 Photo
(6) Ali Gagne of Lakeview and (16) Kaylee Buchenic fight for the ball Monday night in Lakeview.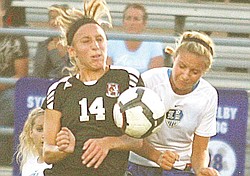 Photo
(14) Meredith Gleichert of Canfield and Lindsey Clark of Lakeview fight for the ball Monday night in Lakeview.
Canfield's defense shuts out Lakeview
By DOUG CHAPIN
CORTLAND
After playing in the Division I regional championship game in 2009, the Canfield High girls soccer players know they are seeing the very best from their opponents this season.
The Cardinals improved to 3-2-2 with a 1-0 triumph Monday night over Lakeview.
"We knew all season long we're going to have a target on our back," Canfield coach Phil Simone said. "In every game we've gone out this year, teams have played a lot better against us. That's something we have talked about."
The victory over the Bulldogs (5-2) came with its own special set of circumstances.
"Coming to a facility with one of the narrowest fields in the area, it's always tougher for us to play on," Simone said. "I thought we dominated most of the game and to adapt to the narrow field and get a win on the road is always good."
Senior Alys Cook headed home a corner kick from Jen Love with 32:54 remaining for the only score of the contest.
The visitors dominated play, holding a 20-3 edge in shot attempts.
Sophomore goalkeeper Elaine Moldovan came up with two outstanding stops among her seven saves for Lakeview.
Canfield's goal was rarely threatened, though there were three scares in the final minutes.
Senior keeper Jackie Podolsky scooped up a loose ball in a crowd in the penalty area with about 13:50 showing on the clock, then senior center back Katie Carlisle cleared a loose ball minutes later in a similar situation.
A Lakeview corner kick taken by Ali Gagne with about 4:15 left in the game went all the way across the front of the goal without being touched before it was cleared on the other side of the net by Canfield.
Carlisle and her defensive mates — Meredith Gleichert, Kendyl Carlisle, Emma Seybert and Lauren Pettola — kept Podolsky relatively inactive for most of the night.
"In my opinion, Katie is the best center back in the area," Simone said. "She's solid, she's physically strong, smart, and just as skilled."
The coach said the Cardinals are looking for improvement at the offensive end.
"We're getting some opportunities but we tend to get a little frantic," he said. "Our composure is still not quite there. Hopefully that will come along."
Halfway through the season it remains to be seen if the Cardinals have another long tournament run in them.
"We are a little sporadic right now. We've got our hot and our cold moments, we've still not found our consistency," Simone said. "We've got some little nagging injuries, we're not 100 percent.
"But we hope we can keep building and getting healthy for tournament time."