Marlowe emerges as leader of golf pack
Greatest Golfer Sunday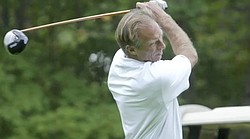 Video
The Greatest Golfer of the Valley event continued Sunday at Trumbull County Club.
Greatest Golfer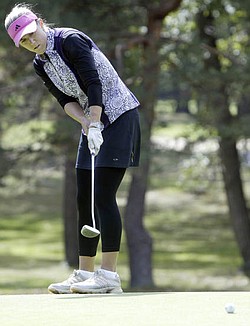 Gallery
Greatest Golfer Weekend One
By Pete Mollica
WARREN
Dick Marlowe had more than his share of trouble on the back nine holes in the first two rounds of the Greatest Golfer of the Valley tournament this weekend.
But his play on the front nine holes more than made up for the trouble.
Marlowe, out of Tippecanoe Country Club, was three-under par on the front sides of the Mill Creek and Trumbull Country Club courses. That was more than enough to offset his back sides as he took sole possession of first place in the Open Division of the tourney.
After shooting a three-over-par 73 at Mill Creek on Saturday, Marlowe shot a 1-over--par 71 Sunday at Trumbull for a 144 total and a four-shot lead over first-round leader Mike Porter going into Saturday's final round at The Lake Club in Poland.
Porter, also from Tippecanoe, shot an even-par 70 on Saturday at Mill Creek, but struggled to a 78 on Sunday and a 148 total.
The tournament's final rounds will be on Friday and Saturday at The Lake Club. The seniors, super seniors and women will play on Friday, and the open division and handicap divisions will play on Saturday.
Both days play will begin at 9 a.m. Pairings and tee times will be announced later this week.
The tournament, the first of its kind open to golfers of all abilities, is being sponsored by The Vindicator and Farmers National Bank.
"I was under par again today at the turn," Marlowe said Sunday. "Then I just couldn't finish it. It's like I just go brain dead on the back side."
Another shot back in third place is Youngstown Country Club's Josh Zarlenga, who fired a 73 on Sunday for a 149 total.
Tamer Win's Tom Kellogg and Olde Dutch Mill's Dan Kinney each finished at 150, Kinney shooting 76 and Kellogg 77 on Sunday.
"I almost made a two on the 6th hole [par-4]," Kinney said. "The ball stopped just a couple of inches from going in the hole."
Also surviving the cut in the Open Division was Alexandra Casi, the only woman playing in the men's open division.
Casi, shot a second round 77 to go with her opening 80 and was at 157. It took a score of 160 or better to advance to the finals in the division.
Ninety-nine golfers started the tournament, but the field was cut to 60 on Sunday with 20 advancing in the Open Division, 12 each in the two handicap divisions, 8 in the Super Seniors and four each in the Seniors and Women's Division.
In the 6-12 Handicap Division, James Lapolla maintained the same lead he had after the opening round.
Lapolla, a member at Trumbull Country Club, shot 79 on Sunday to go with his opening 78 for a 157 total. He leads Chad Akins of Mill Creek by three strokes. Akin also shot 79 to go with his opening 81 for a 160 total.
Lapolla said he played well except for one hole.
"I had a four-putt today," Lapolla said. "I played pretty well except for the four-putt on the 6th green. The wind played a big factor out there today, but I was satisfied with my round."
Tom Onesti from The Lake Club took the lead in the 13-over Handicap Division. Oneseti shot a 90, which was the second best round produced Sunday in the division.
He has a 177 total for 36 holes and a one-shot lead over Chuck Petrosky of Mill Creek, who was at 178 after shooting the best round of the division with an 89.
Onesest played among the Open Division field after a mistake in the pairings and played in the first group of the day.
"It probably helped me some," Onesti said. "You always play better when you play against better competiton, but I'm used to that because I'm always playing against guys better than I am. But I know that it make's me concentrate a lot better."
In the women's division, Mill Creek's Joan Ash didn't play as well as she did on Saturday, but still shot good enough to continued to lead the division.
Ash had 90 on Sunday for a 167 total and leads Sally Taylor of Trumbull Country Club by four shots.
Taylor shot 83 on her home course and was at 171. Those two will be joined by Pam Holisky of The Lake Club (178) and Michelle Caputo (188) next week in the final.
"I really don't hit it very long," Ash said. "And it was pretty wet out there today and it seemed like I was hitting 5-woods into every green. It's a beautiful golf course, but it was a long two days."
Ed Antonelli of Avalon Lakes has a five-shot lead in the Super Seniors Division (70-over). He shot 77 on Saturday at Mill Creek and added a 78 Sunday for a 155 total and leads Ray Beach of Mill Creek who totaled 160 after a 78 on Sunday.
"It was a very long two days and I'm pretty tired," Antonelli said. "I played pretty well most of the time, but it was a struggle to keep your concentration coming down the stretch."
In the Seniors Division (60-69) the leader is Kurt Beler of Donnybrook with a two-day total of 163, while Jerry Bollinger of Mill Creek and Bob Leonard of Kennsington each totaled 164 and they will be joined by Skip Gottschalk in next weekend's final.