---
Friday, September 10, 2010
Pavlik-Martinez Fight Night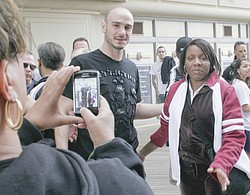 Gallery
By JOE SCALZO
YOUNGSTOWN
"The Ghost" is about to reappear.
Kelly Pavlik's handlers have reached an agreement in principal for him to fight Haitian Daniel Edouard on Nov. 13 on the undercard of the Manny Pacquiao-Antonio Margarito bout at Dallas Cowboys Stadium.
"We're real optimistic" it's going to happen, said Cameron Dunkin, Pavlik's co-manager, "We have a contract here to sign and Kelly's signing it.
"He's ready to fight."
The non-title bout, which will be at a 164-pound "catch weight," will be Pavlik's first since losing his WBC and WBO middleweight belts by unanimous decision to Sergio Martinez in April.
Edouard (23-3, 14 KOs) is coming off a split decision loss to Alfonso Mosquerain July. Known as "The Haitian Sensation," the 5-foot-10 Edouard will give up 41/2 inches to Pavlik. A middleweight, he weighed 154 pounds for the Mosquera bout, giving up six pounds to his opponent.
"He's a good fighter, a solid fighter," Dunkin said. "He won't run and he'll put on a good fight."
He and Pavlik share a few common opponents, notably Jermain Taylor (who Pavlik beat twice, including a 2007 bout to win the title) and Miguel Espino (who lost to Pavlik by fifth-round TKO in December).
Edouard lost by third-round TKO to Taylor in 2005 and beat Espino by majority decision in 2003.
"Kelly's been out of the ring for awhile and we don't expect him to fight King Kong," said Dunkin. "Edouard is a very solid guy."
Pavlik (36-2, 32 KOs) last fought an undercard bout in May of 2007, where he knocked out Edison Miranda in Memphis to earn his title shot. Taylor defeated Cory Spinks in the main event of that card.
Top Rank chairman Bob Arum, Pavlik's promoter, has wanted to bring Pavlik to Dallas for a fight since Pacquiao's win over Joshua Clottey last November at Cowboys Stadium. Pavlik was a guest at that fight, where he and Cowboys owner Jerry Jones hit it off.
Arum had wanted Pavlik to headline a bout at Cowboys Stadium but the loss to Martinez changed those plans.
Pavlik has fought above middleweight twice in his last nine bouts. He defeated Taylor in their second bout at 164 pounds in February of 2008, then lost to Bernard Hopkins at 170 pounds in October of that year.
Pavlik said the loss to Martinez was directly related to his struggles to make the 160-pound limit.
Neither Pavlik nor his trainer, Jack Loew, returned phone messages for this story.