Canfield Fair ends with rave reviews
2010 Canfield Fair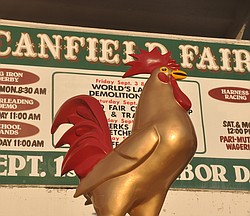 Gallery
By Elise Franco
Canfield
The 164th Canfield Fair definitely was "something to crow about."
After six days of food, rides, entertainment and barnyard animals, the fair has once again ended.
Jim Brown, fair board president, said he's thrilled with everything about the 2010 fair.
"It was super," he said. "The weather was in our favor, the crowds were good, the shows were good, and people came out."
Brown said Sunday's near-record-breaking attendance helped boost the total figure. A total of 95,382 people came into the fair Sunday, making it the second-highest attended Sunday since 2001.
Brown said attendance was on par to meet or break last year's total. He made those remarks before official figures were released late Monday night that confirmed this year's fair topped the 2009 fair in attendance.
The board president said overall, 2009 was an exceptional year for the fair, and this year was no different.
"Last year was a super fair, and this year was just as great," he said.
Gia Ramsey, 23, of Poland, spent her week selling sausages at one of several DiRusso's stands throughout the fairgrounds.
Ramsey said business was heavy, especially Sunday and Monday.
"The weather really helped because it's not so hot," she said. "We really pick up [Sunday,] and we're steady [Monday.]"
Ramsey, who's been working at the stand for six years, said overall business seemed to have done well.
Deluca's is another fair-food staple, and concession owner Ed Snitzer said his Italian food stands have done well for more than 20 years.
"Each year, this fair seems to attract more and more people," he said. "After the first day, we picked up, and it got really good."
Snitzer said he thinks having a large, covered tent with tables and chairs draws in fairgoers.
"I've had a lot of people tell me that it feels good to get out of the sun and sit down," he said.
Brown said though the stands and rides will start to come down today, the board's work isn't over.
"Immediately after the fair is over, we'll be starting to plan for next year," he said.
Brown said one of the major changes the board will look at is how to cut down on traffic jams coming in and out of the fair.
"We'll look at changing some of the ways we handle traffic," he said. "When you get as many cars as we got on Sunday, you really get an idea of what you have to do to alleviate that traffic problem."