Officials to celebrate the start of Cruze production
Cruze gets 3rd Shift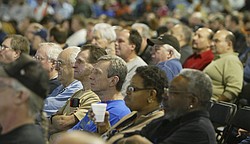 Gallery
Cruze Test Drive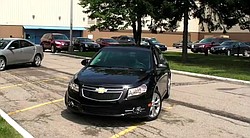 Video
Vindicator business writer Grace Wyler test drives a new Chevrolet Cruze.
GM Lordstown prepares for the Cruze.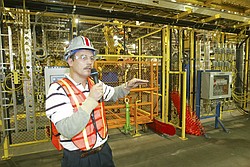 Gallery
GM Lordstown shows off preparations for the Cruze during a June 24, 2009 media tour.
By GRACE WYLER
The workers at the General Motors Lordstown complex have ramped up production on the Chevrolet Cruze in anticipation of tomorrow's high-profile launch.
"Everything is set," said plant manager Bob Parcell. "All systems are go."
Cruze production has progressed slowly, as the plant takes pains to perfect GM's new compact car. The company is relying on the Cruze to reverse its historically lackluster performance in the small-car segment and rebuild the Chevrolet brand.
"We want to make sure it's a perfect car," Parcell said. "We have all of the makings of a home run."
As evidence of the car's importance, state officials and company executives will be at the Lordstown complex for the official launch of the Cruze on Wednesday morning.
President Barack Obama, who is scheduled to be in Northeast Ohio Wednesday, is reportedly considering attending the event. His speech in Parma is scheduled 31/2 hours after the Cruze launch begins.
Mark Reuss, president of GM North America, and Ohio Gov. Ted Strickland will headline the kickoff celebration, which starts at 10:30 a.m.
The launch is a celebration of "the resilience of the Mahoning Valley's working men and women, who defied those critics that said Ohio manufacturing was dead," Strickland said. "Ohio is only just getting started," he added.
Leaders from the United Auto Workers Locals 1112 and 1714, as well as U.S. Rep. Tim Ryan of Niles, D-17th, and Lordstown Mayor Michael Chaffee, will also speak. Several other state and local officials, including U.S. Sen. Sherrod Brown, D-Ohio, are slated to attend.
"This launch is a landmark moment for the state of Ohio, and a turning point for our country's manufacturing sector as a whole," Brown said.
The kickoff celebration, which is open to the public, will mark the departure of the first Cruze cars to Chevrolet dealerships across the country.
Chevrolet will roll out its Cruze advertising campaign this week, with television ads scheduled to hit airwaves today. The commercials feature actor Tim Allen, best known for the television series "Home Improvement," as the new voice of Chevrolet.
The marketing campaign, which will include a large social-media component, is set to ramp up later this fall.