Church's free ox roast serves up fun and fellowship to thousands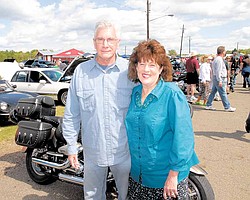 Photo
. Pastor Frank Glenn and his wife Linda Glenn put on the ox roast every year.
By JORDAN COHEN
BAZETTA
Put the word "free" on any event and it's bound to draw a crowd.
It's probably what attracted thousands to the Trumbull County Fairgrounds on Sunday for the last of the three-day Glenn Christian Foundation Church Ox Roast, which featured free admission, food, amusement rides and classic cars.
That's just fine for the man whose vision created the event.
"For so many people who don't have any money, here's something they can do," said Pastor Frank Glenn.
Glenn and his wife of 42 years, Linda, said the annual roast started as a small church picnic in 1995. When the event became too large for the grounds of his Parkman Road, Warren, church, Glenn moved it to the fairgrounds several years ago.
It's been growing ever since.
"We just wanted to provide fellowship and fun for our community," Glenn said. "I just knew it would be a big event.
"It costs tens of thousands of dollars to hold something like this," the pastor said, although he declined to give a specific figure.
He noted that the Trumbull County Fair Board estimated that nearly 30,000 people attend the three-day event, but he believes the figure is actually higher.
How much free food does the church need to satisfy the thousands who show up?
Ken Hansel of Cortland, who has coordinated the event for years, said he has a pretty good idea.
"We order around 1,300 pounds of beef on the spit, 8,000 hot dogs and probably 10,000 cans of soda," Hansel said.
"We'll have enough," promised Hansel's wife, Tina.
Glenn said the church could never afford to have the event without the cooperation of more than 200 sponsors and a large number of food vendors who pay to set up their stands.
An estimated 2,000 classic cars from 17 states and Canada were parked throughout the fairgrounds — one of them, a rebuilt 1910 Ford Town Car.
"I love bringing it to an event like this," said David Kelly, 64, who transported it from his home near Erie, Pa.
Hundreds of motorcycles along with tractors and trucks also vied for spectator attention.
The biggest attraction, though, appeared to be the free food. Long lines waited patiently for the free roast sandwich, soft drink and other food doled out by a number of volunteers.
"I think we're making around 1,000 sandwiches an hour," said Dee Lambert of Cortland, one of the volunteers.
Matt Abruzzi of Warren, accompanied by his wife, Stacey, and their two children, said he appreciates what the church is doing.
"There are so many people here because they never get anything like this," said Abruzzi, a church member.
Glenn estimated that 500 attended a Sunday morning worship service in the grandstands, long before the food was served.
"I like to refer to this as a church service with a car show tacked onto it," he said.
However, he emphasized that the ox roast is not a church fundraiser, and donations are never requested.
"If they want to support this, they can buy one of our T-shirts and get something for their money," his wife said.
Glenn said that the biggest enjoyment for him during the three days is the response of children who can ride the amusements as often as they wish at no charge.
"I was a poor kid myself, so now I'm helping create memories for the kids," Glenn said. "I love watching them and their families have fun without worrying about the money."