2010 Canfield Fair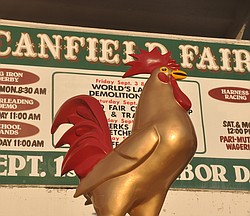 Gallery
Fair is fun location for family reunion
By Ashley Luthern
CANFIELD
The Joe A. Less family became the first to have an organized reunion at the Canfield Fair on Saturday.
"We don't have to plan games or this or that," sad Marianne Less of Leetonia. "I asked if everyone wanted to do it at a resort or park, but we all wanted to do it here."
The family has been associated with the fair for decades, beginning with A.A. Less, who displayed produce from the family orchard and served on the fair board.
"We're just a fair family," said Joe Less, who has been married to Marianne for 49 years. The couple helped plan the reunion, and 53 family members attended, including their son, John Less of Salem.
Their other son, Lt. Col. Joseph Less, is stationed in Iraq with the Air Force, so the family used their cell phones to talk to him Saturday morning.
Three generations of the Less family have served on the fair board of directors.: A.A. Less, Francis Less and now George Less.
"It's just a lot of heritage with that part of the family," said George, who has spent 20 years on the board.
Relatives from New York, Washington, D.C., Georgia, Michigan and Germany converged on the fairgrounds for the reunion.
"The fair was always a big deal for us," George said. "Our grandfather [A.A. Less] used to bring apples on the setup day for the fair and take us to lunch. We'd all wait in line to help him set up."
The family used the Vantage Program, new this year to the fair.
The Vantage Program was created to give large groups a private place to meet while still being on the fairgrounds. Package prices are based on group size: $500 for 25 people, $1,500 for 50 people, $2,000 for 75 people and $2,500 for 100 people.
Although there were a few glitches, such as confusion about parking, having the reunion on the fairgrounds has run smoothly, Marianne said.
"We're trying to have a reunion here every couple of years," she said.
Five local businesses took advantage of the program, but the Lesses were the only family to use it this year.