Irish run wild in victory over Bethlehem Catholic
By Chuck Housteau
Ursuline Scrimmage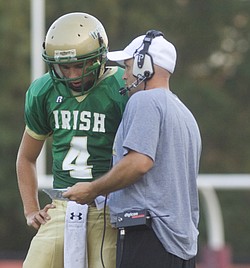 Gallery
Team

| Record | Div. | Conf. |
| --- | --- | --- |
| 2/8 | Div. IV | Independents |
Mineral Ridge
Just minutes into the Ursuline Irish game against Bethlehem (Pa.) Catholic, Irish faithful had to be asking just how good is this year's team.
The Irish (2-0) took the opening kickoff and traveled 64 yards in only three plays before Akise Teague scored his fourth touchdown of the season on a 37-yard run with 11:15 left in the first quarter.
Ursuline scored another early touchdown, this time via the arm of Paul Kempe. And the Irish's smothering defense forced a safety when Trevor Smith tackled a Hawk's ball-carrier in the endzone for a quick 16-0 lead.
When the wind died and the sun reappeared later in the afternoon, Ursuline had put away Bethlehem Catholic, 50-14.
Despite two impressive wins to open the season, next week's matchup with Mentor Lake Catholic will likely give Irish fans a better idea if this year's Ursuline team is capable of making a run at a record third straight state title.
It was obvious after the game that the Irish were more concerned with next week's matchup against the team that handed Ursuline a defeat in last year's championship season.
"That's a personal game for us," Smith said after playing outstanding on both sides of the football Saturday afternoon. "They got the best of us last year and we want to get that one back."
It didn't look like Smith had concern for anything other than the task of defeating the Hawks.
Smith rushed for 131 yards on 5 carries and raced 71 yards for a score midway through the second quarter. He also was the leader of the Irish defense that limited Bethlehem Catholic to 152 yards of total offense.
"I give all the credit to my offensive line," said Smith. "I'm not a cocky guy. I know that I can't do any of those runs without my linemen making it possible.
"Same thing with defense. Everyone has to work in sync if you are going to play good defense. I couldn't have made the tackle for the safety if all of my teammates weren't doing their jobs."
The Hawks only two scores came against the Ursuline reserves and freshmen.
Ursuline's offense was clicking on all cylinders as ten Irish back's combined to rush for 402 yards of offense.
Teague finished with three touchdowns while Kempe, Smith, Jesse Curry and RaeQuan Reeves also found the end zone for the Irish.
"It's a great feeling to watch these backs run so well," said Ursuline offensive lineman Zach Conlan. "To know that we have a hand in helping them score touchdowns is great. I have a lot of respect for how hard all are running backs work at practice to keep getting better."
Ursuline coach Dan Reardon was happy with the overall performance but urged his team after the game to keep working hard to get better.
"We need a good week of practice," he told the team after the victory. "We need to work on some things we didn't do well and get better every day."