Girard's late score results in a 16-13 win over Struthers
Girard vs Struthers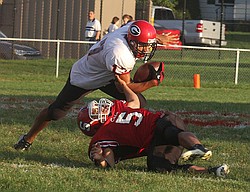 Gallery
Team

| Record | Div. | Conf. |
| --- | --- | --- |
| 9/2 | Div. IV | All-American Conference Blue Tier |
Team

| Record | Div. | Conf. |
| --- | --- | --- |
| 7/4 | Div. IV | All-American Conference White Tier |
By Chuck Housteau
STRUTHERS
Girard's Landon Smith was just hoping that his number was going to get called as the Indians were on the wrong side of the score with just minutes to go in a non-conference game at Struthers on Friday night.
Smith watched as the Indians tried three unsuccessful running plays inside the Wildcats 5-yard-line as the clock went inside two minutes.
Finally, on fourth and goal, Girard quarterback Dan Graziano faked an inside handoff and rolled right searching for Smith.
Graziano found the Youngstown State recruit in the back corner of the end zone with 1:12 left to give Girard and first-year coach Nick Cochran a 16-13 victory.
"I was hoping to hear my number called," said Smith. "I love getting the ball ... and the game-winning catch, you can't beat that.
"We needed a big play there. We just realized we wanted to win this game so bad. It feels really great."
The catch by Smith capped off a 15-play, 57-yard drive that ate over seven minutes and gave Cochran his first win after taking over for Bud McSuley.
"This is how a high school football game is supposed to be played," said Cochran. "This is how we played when I was back in school. Girard and Struthers battling to the end. I love it."
Smith and Graziano's heroics were needed after the Wildcats rallied from a 9-0 third quarter deficit to take the lead on an interception return for a touchdown by Struthers' Adam Ryczaj.
Ryczaj stepped in front of Girard running back Ahmad Eggleston on a middle screen and made a tremendous grab of Graziano's pass. He regained his balance and ran 7 yards for the go-ahead score with 8:44 left in the game.
"That was a good football game right there," said Struthers coach Dallas Saunders. "Both teams made mistakes and it was sloppy at times but it was a hard-fought game."
The Cats' chances looked dim midway through the third quarter.
Although Struthers' defense was stout they still trailed 9-0 and were struggling on offense.
That changed when wide receiver Jermayne Brooks came around on a sweep, took the ball and found a seem down the right sideline for a 56-yard score.
Struthers' defense then took control and held Girard in check until Ryczaj's big play.
"I told the kids that we needed to finish the game," Cochran said. "We've got kids who have played in a lot of big games the last few years and we needed to finish the game and get the win.
"Last week we couldn't finish after getting a 14-0 lead [against Akron Manchester]."
Smith and Graziano hooked up early in the game on a 13-yard fade rout for a 6-0 lead in the second quarter and David Meigs kicked a 19-yard field goal midway through the fourth quarter.
Graziano completed 16 of 22 passes for 175 yards while Smith, who was coming off an injury that knocked him out of the Manchester game, grabbed 10 passes for 113 yards.
The Wildcats offense was effective on the ground rolling up 134 yards. Brooks had 69 yards in only five carries while Keith Auman had 51 yards on 13 carries.