Board picks new chief of city schools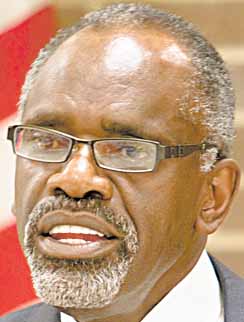 Photo
Youngstown City Schools Superintendent Connie Hathorn
By Denise Dick
AKRON EDUCATOR CHOSEN ON 5-2 VOTE
By DENISE DICK
youngstowN
Connie Hathorn, the new superintendent of the city schools, believes his background and skills can pull the community together.
"A big key is building relationships and trust," said Hathorn, of Copley.
Until July, Hathorn served as executive director of student support in the Akron City School District. His job was eliminated.
The city school board voted 5-2 Friday, selecting Hathorn as the new city schools superintendent. The terms of his contract, including his salary, must be negotiated. Wendy Webb, superintendent since 2004, was to earn about $122,500 this year. She is retiring at the end of the year.
Anthony Catale, board president, and members June Drennen, Richard Atkinson, Lock Beachum Sr. and Andrea Mahone voted in favor of Hathorn with Rachel Hanni and Michael Murphy opposed.
"I'm excited about Dr. Hathorn and I will support him, but people tell me to vote with my heart and my heart is telling me to go with another candidate," Hanni said.
She and Murphy both declined to identify whom they favored for the job.
Murphy said that he also planned to support and work with Hathorn.
Catale said Hathorn was one of the three names given to the school board by the Academic Distress Commission as candidates it believed understood and were able to do the job. The commission is expected to vote on Hathorn's appointment at its next meeting, Catale said.
The board was looking for a superintendent with experience as both an administrator and a teacher in an urban school, he said, who is familiar with the challenges the city school system faces.
Catale told community members at Friday's meeting that it was going to take help from them to turn the schools around.
"Hiring a new superintendent is just one step — one small step — in moving the district forward," he said.
Hathorn is expected to be in the district next week when negotiations for his contract as well as development of a transition plan between him and Webb will begin.
A Mississippi native, Hathorn has a doctorate in educational administration from Iowa State University and served 19 years in Akron schools including time as the executive director of human resources.
He also worked as a principal, assistant principal or teacher in Arkansas and South Carolina.
Hathorn was one of five finalists for the superintendent job narrowed from a list of 31 applicants.
The other finalists were Christina Dinklocker, deputy superintendent of the Parma City School District; Pamela Brown, interim chief academic officer, Philadelphia schools; Timothy Dortch, director of student services, Kent city schools; and Thomas Robey, superintendent of Campbell city schools.
Hathorn said he wants to devise a 100-day plan for the district.
"I want to get there and do a lot of listening and observing and learning to find out what's going on in the district," he said.
He also plans to meet with staff and with the Academic Distress Commission to review its recovery plan for the district.
He wants to make Youngstown a "data-driven district," using what he calls a data dashboard that examines student achievement based on several elements including race, subject and grade level.
"Then we can see the trends, see the areas where we need improvement and work with the buildings and develop" professional learning centers, where teachers can get additional training, he said.
"I'm very excited about the challenge," Hathorn said.